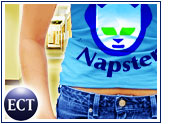 Online music service Napster has announced a distribution deal with a UK independent label group to bolster its catalog of copyright-compliant tracks for Internet users.
Roxio-owned Napster also signaled it still plans to enter the competitive UK market as early as late summer, while UK download rival Wippit announced its own distribution deal with Sony.
All of the activity highlights the contract and copyright agreements that are key to expanding and offering online music to consumers and that are likely to become increasingly complex in the world market.
"They'll be able to claim 'first and only' for a while," Gartner research director Mike McGuire told TechNewsWorld regarding Napster's UK expansion. "Because the copyright issues in other countries are going to be really, really hard to deal with."
Differentiating by Indies
Although its British play was not announced officially, Napster said its deal with the Association of Independent Music (AIM) will bring some 50,000 new tracks from 50 of AIM's 800 member companies to the Napster catalog.
"Napster creates the ultimate community experience for music fans and the variety, quality and originality of music from the independent UK sector is vital to delivering this experience," said Napster president Brad Duea in a statement.
AIM chair and chief executive Alison Wenham said Napster will "make a big difference to music fans in the UK" through the deal, which also will deliver a "global business" to independent record companies and artists.
"At last we have a legitimate service from the world's leading online brand, which offers flexibility in streaming and downloading to music fans," Wenham said.
New Flavors for Fans
McGuire said that strategies to incorporate independent artists and labels from companies, such as Napster and Apple with its iTunes Music Store, are necessary to attract more of the world's music audience.
"The larger point is that it's very important for all of these services to try and grow their catalogs and expand beyond the plain-vanilla, top-five labels," McGuire said.
McGuire added that the indie label announcements are intended for the media, analysts and other insiders more than for consumers, who likely do not know or care what label their favorite artists use to release music.
British Battle Ahead
In announcing the AIM deal, Napster said it will carry music from labels such as Ninja Tune, Domino, Cooking Vinyl, Gut and Skint and from artists such as Coldcut, Billy Bragg, Roots Manuva, Kid Koala and others.
Napster's announcement came at the same time that popular UK music service Wippit announced its own deal with Sony, which produces music from artists such as Babyface, Tony Bennett and Korn, among many others.
McGuire said the foreign online music market represents a much greater challenge in terms of copyright deals and contracts with entirely different recording industries in the various nations. In addition, competition is already fierce in Europe, with even more players trying to lure online music fans than in the United States.
Competing with Free
McGuire said the independent label and expanded global strategies highlight that the music industry might be realizing it cannot eliminate the free, peer-to-peer download services that first attracted large audiences to online music.
"Ultimately, the legitimate services are figuring out that you don't compete with free by extinguishing it," McGuire said. "You compete by providing a more reliable service and better content."
McGuire added that new services such as live365.com and blogs around the Internet are providing music fans with a chance to be amateur DJs and share their favorite music, delivering a real community experience.
"Things like live365 and blogs are going to become very important vehicles for finding music," he said. "They are spreading the ability for individuals to be part of the discussion of new music and the spread of music."