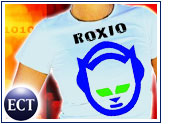 Online music service Napster — a division of Roxio — has launched a download service in the UK, offering a choice between individual song downloads or a monthly subscription.
Users with Windows 2000 or XP systems can download the Napster jukebox application and begin downloading songs to their PC. Users that sign up to the Napster UK service before May 27th will also receive a free seven-day trial subscription.
A spokesperson for the company said that currently 500,000 different tracks were available for download yet that figure is expected to grow to 700,000 within the next 30 days.
Pricing has been set at GBP1.09 for each song downloaded or GBP9.95 for each album. A monthly subscription is also available for GBP9.95. The monthly subscription provides unlimited downloads yet there is a GBP0.99 cost for each time a track is burned onto a CD or copied to a portable music player.
For expanded coverage, see "Napster 2.0 Goes Live in the UK Today."