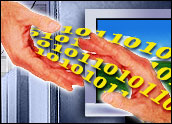 It used to be that peer-to-peer (P2P) operators and major music and movie entertainment companies mentioned in the same statement indicated some sort of legal action by either side, but the latest announcement — a deal for NBC Universal content to be available on Wurld Media's Peer Impact P2P service — has the two holding hands.
In what was called a deal for the first legitimate P2P operator to offer video on demand, the companies said NBC Universal's movies, including "Ray," "Meet the Fockers" and others, would be legally available on the Peer Impact service online.
Industry analysts praised the deal, highlighting other experiments — such as Apple's deal with ABC for shows on the video iPod — and said although the studios may be better positioned to leverage P2P, there are significant hurdles ahead.
"I think clearly they are all looking at this, and looking at different ways of doing it," Gartner research director Mike McGuire told TechNewsWorld. "It used to be something they hated," he added of P2P. "The real crucial thing is they're at least trying it."
Embracing Technology
Although the major Hollywood movie studios have historically resembled the recording industry — which sued thousands of individual users — when it came to P2P, it appears the big screen and TV content giants have learned from the song swapping struggle and may be faster to take advantage of legitimate digital distribution.
NBC Universal and Peer said their agreement would make programming available to P2P users for one day rental.
"This agreement with Wurld Media furthers [our] commitment by allowing consumers to view the highest-quality movies securely on their computers," said a statement from NBC Universal Cable president David Zaslav.
Experimental Use
McGuire said other trials, including the BBC's and the Apple-ABC iPod deal, represent the content holders' first try at legitimate online distribution of video.
"The challenge now is the experiment to see how this channel works," he said. "It is definitely their first shot, their first experiment, so this is going to be fine-tuned."
The analyst added that while there is an expectation of ownership with music, consumers may be more willing to pay for limited viewing of video, which they are accustomed to with rentals.
Nevertheless, McGuire said while the technology and architecture may change, the business model may be the biggest issue for online and on demand video.
Content and File Size
Jupiter Research Vice President Michael Gartenberg told TechNewsWorld the NBC Universal-Peer and Apple-ABC deals signal entry into a new area.
"A lot of this is going to come down to what content is available and how is it available," he said.
Gartenberg added there are major differences with video, which is not something consumers typically watch over and over as they do with music, and which is a dramatically larger file size.
"That has a significant impact as well," he said, adding although there are digital rights management and technology issues to deal with, it is good to see content holders attempting to get ahead of the curve.