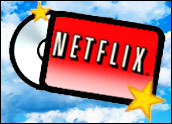 Movie fans will soon have yet another way to get online content through their televisions. Netflix has signed a deal to offer video streaming through a new LG Blu-ray DVD player. The device marks Netflix' third online-to-TV partnership and will be the industry's first Blu-ray system to offer instant streaming.
The set-top box — named the "LG BD300 Network Blu-ray disc player" — is set to go on sale this fall for less than US$500, the company said. Unlimited streaming will be offered at no additional cost to anyone with a regular Netflix membership.
Streaming Steps
The announcement comes just two weeks after Netflix' introduction of streaming content for the Xbox 360 gaming console. That followed the company's debut of the Netflix Player by Roku earlier this year. The steps are all part of the company's plan to reach every venue in which movie fans could possibly be.
"The Netflix goal is to be ubiquitous," Steve Swasey, Netflix vice president of corporate communications, told TechNewsWorld. "We're doing that through partners … [that have] seen the vision that getting the Internet to the TV is the way to the future," he said.
Though accessed through a Blu-ray player, the streamed content will not be available in HD at launch. It will, however, be at a quality comparable to a standard DVD, the company promises.
Limited Library
While Netflix' mail-based DVD service offers about 100,000 titles, the streaming library is limited to only about 12,000 options as of now, and its movie selection consists greatly of old or low-budget films rather than recent blockbusters. That may end up being the service's strongest limiting factor.
"It's a natural evolution, moving toward digital distribution," Jonathan Taplin, a professor specializing in digital media entertainment at the University of Southern California's Annenberg School for Communication, told TechNewsWorld. "The problem is that until the industry creates a completely different way of approaching video on demand, it's just not going to be the most satisfying experience," he said.
The issue, Taplin explained, is that the industry doesn't treat streaming video the same way it does DVDs. A title might become available on-demand, then be removed months later when a pay service such as HBO or Starz obtains exclusive rights. It could pop back up into streaming services down the road, or it could just vanish from the libraries permanently.
"When you look at the Netflix site for their top most popular [streaming] movies right now … I mean, it's a joke," Taplin commented. "[The industry] should treat on-demand the same as it treats the DVD window: Once something goes into DVD, it stays into DVD, and you can always get it."
Future Focus
On the whole, on-demand does appear to be the path of the future — and we can expect to see more similar streaming models popping up in the coming months.
"There's no reason [distributors] should want to favor one player over another," Taplin pointed out.
Undoubtedly, other companies are scrambling to get in on the action. Apple has its AppleTV, Amazon has Unbox and Amazon Video on Demand, and Blockbuster is working to expand its offerings as well.
Specifically, Blockbuster is currently focusing on integrating Movielink — a streaming solution acquired one year ago — into its Web services, spokesperson Randy Hargrove told TechNewsWorld. Blockbuster is also "still actively exploring options" to acquire other digital distribution platforms, he said. That type of transition, USC's Taplin believes, makes perfect sense.
"Why do you want to have a distribution model where all the costs and the risks are held by the distributor — making the discs, distributing them, having to take them back from Wal-Mart when Wal-Mart doesn't sell them? With the digital download business, the customer's taking over," he noted.
Still, don't expect DVDs to disappear any time soon: Industry research predicts another solid couple of decades of disc-centric sales. Eventually, though, the disc may follow the same path as the CD — becoming a far less common cousin to its digital alternative.
"At some point, you'll have one client that'll be embedded in your TV — you'll have the whole Internet right there," Netflix' Swasey theorized. "That's years and years away. It's still going to be a DVD world for many years," he concluded.