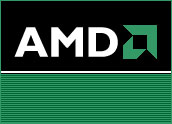 Advanced Micro Devices (AMD) has turned to graphic chip technology to boost the power of its latest high-end processor, the FireStream 9170 Stream Processor, unveiled Thursday.
The hybrid chip taps into the "massive parallel processing power" found in graphics processing units (GPU) and leverages it to meet the needs of the demanding high-performance computing (HPC) market, AMD said.
The FireStream 9170 is aimed at companies that regularly perform complex computations, such as those in the scientific and oil and gas industries.
"With a broad range of customer engagements underway, notably customers in the oil and gas, financial and engineering analysis industries, AMD is delivering on its vision of accelerated computing with breakthrough benefits for our enterprise customers," said Rick Bergman, senior vice president and general manager of graphics products at AMD.
"Leveraging the immense graphics processing capabilities acquired from ATI and the HPC domain expertise of AMD, we are developing strong relationships with system vendors and the supporting technology ecosystem to deliver processing innovation through an open platforms approach," he continued.
The microprocessor manufacturer has also released a software development kit (SDK) to enable businesses to take advantage of the FireStream 9170 computing power.
Harder, Better, Faster, Stronger
When it becomes available during the first quarter of 2008, the AMD FireStream 9170 will be the world's first stream GPU with double-precision floating point technology created specifically for scientific and engineering calculations, the chipmaker said.
A single card solution, the 9170 offers 2 GB of memory and as much as 500 gigaflops of computing power. That, according to AMD, rivals the power of many supercomputers today and also provides dramatic acceleration for critical algorithms.
Unlike AMD's other processors, including the Opteron, the FireStream 9170 is built with a 55 nanometer process technology and uses less than 150 watts of power. Consuming less power equals reduced heat dissipation, which allows the 9170 to function in dense design configurations.
Streaming Power
Due to the ever-increasing demands of gamers for a more and more realistic gaming experience, GPUs and their parallel processing technology pack a powerful punch. Top of the line processors can execute as many 360 billion floating point (FP) operations per second.
Stream processing, then, is not new — nor is high-performance computing on GPUs anything new, said Tom Halfhill, an In-Stat analyst.
"The only thing I see that might be genuinely new is that AMD is using the GPU for double precision FP. Previous applications of this technology were limited to single-precision FP," Halfhill told TechNewsWorld.
The FireStream's architectural design is more of a hybrid between a GPU and CPU that represents an evolutionary advance in processors, James Staten, a Forrester Research analyst, explained.
"The parallel mass capabilities with the floating points this chip has, it's likely to have a very significant impact and be very different than the traditional processors customers have had access to," he told TechNewsWorld.
"However, it is unclear if it is going to be so differentiated that it changes anything about how those customers design their applications, and it is very unclear as to whether that will change the hardware they will buy," Staten continued.
To fully utilize the chip's technology, users will have to have a skilled programmer who can tap into the SDK and do something strong with it, he added.
With the hybrid architecture of FireStream, AMD has taken a slightly different approach than its competitor Nvidia, which released its Tesla processor in June. That difference means it has potential interest in different markets for different applications than the Tesla does.
"It is very likely that it will be a successful product for AMD," Staten concluded.