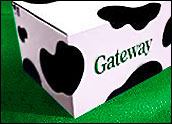 Once perhaps the most prominent seller of desktop PCs to consumers, Gateway has announced a new small business server aimed at diversifying its product line, increasing its margins, and leaving behind its more recent marketplace struggles.
Gateway announced its new E9220T server as a "low-cost, entry-level performance oriented server platform ideal for small businesses, workgroups and branch offices" this week, indicating the server, offered with a range of processors that includes dual-core technology from Intel, would be priced as low as US$599.
Analysts said the company was reacting to the decline in desktop PC demand and looking to a server segment where its consumer reputation could be leveraged.
"Gateway is doing what it needs to do to expand its product portfolio and move up where the profit margins are higher," Yankee Group senior analyst Laura DiDio told TechNewsWorld. "It's a very, very good fit for them. They're trying to expand their install base and appeal to a broader range of customers. They've got to move up, because you can't be in PCs."
Entry From Gateway
Gateway said its E-9220T server was both an entry-level machine for small businesses and a scalable, affordable solution that would support Intel's Celeron, Pentium 4, and dual-core Pentium D and Extreme Edition chips, with BTX chassis, RAID 5 functionality, redundant power capabilities and other features.
"Gateway is offering a best-in-class entry-level server with unprecedented high availability features and system customization generally only found in higher-level or much more expensive systems," said a statement from Gateway senior director of server marketing Tim Diefenthaler.
Gateway said the server would be ideal for a range of environments, particularly file and print sharing and scaled up as an application server, as well as at remote or branch sites.
Smaller Customers and Company
Yankee's DiDio said despite its market troubles, Gateway does have a solid reputation and customer satisfaction and similar attributes to bring to the table. The analyst said smaller business IT customers may also be looking for a smaller company than a Dell, HP, IBM or other major vendor.
"Everybody's looking at small business," she said. "It's good for Gateway. A lot of these people like to deal with a company that seems to be smaller and more caring."
DiDio added that while there has been industry hype around 8-way and 16-way servers, most customers are still running single or dual-core servers and the lower-end market has become a major battleground among bigger vendors.
More Than Machine
DiDio also said Gateway's offering of expansion slots, optical drive support, as much as 1.6 terabyte of storage, and particularly included management software would appeal to many small businesses, which also have a wide choice of Intel processors in the new E9220T.
The analyst said the new SMB server's support for Windows server technology might indicate a future bundled offering from Gateway and Microsoft, as well.
DiDio praised Gateway's strategy, indicating the company may have an advantage over the dominant, larger players such as Dell, HP and IBM.
"This type of market favors a company like Gateway," she said. "Because they're smaller, they're more flexible and can move more quickly."
Building and Keeping
Gartner research vice president Martin Reynolds told TechNewsWorld he agreed that Gateway had little choice but to look to markets other than its core PC business to survive.
"That's pretty much the only growth left, other than notebooks," Reynolds said of the SMB server market.
The analyst added that with all of the vendors focusing more and more on smaller customers, the software and support behind the systems will become more significant.
"It becomes hardware and support and setup," Reynolds said. "How do you minimize the time it takes in getting these small servers?"
"If you package the small server right, it can work," he added. "The challenge for Gateway is building a market and keeping it."