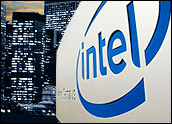 Intel launched its latest series of chips in the Xeon branded line of server processors Monday. The Xeon Processor 7400 series includes seven 45 nanometer (nm) chips sporting up to six processing cores per chip and 16 MB of shared cache memory.
The new six-core Xeons, aimed at mid-sized to large businesses, are optimized to run applications built for virtualized environments and data-hogging workloads such as databases, business intelligence, enterprise resource planning and server consolidation, Intel said.
"The six-core Xeons are one step along the way to more powerful multicore processors. Because they have more cores, capable of running more independent processes, they are better for virtualized environments than processors with fewer cores," Roger Kay, president of Endpoint Technologies Associates, told TechNewsWorld.
Six Cores and Counting
With the Xeon 7400 processors inside, platforms can scale up to 16 processor sockets, delivering servers with up to 96 processing cores inside, according to Intel. This provides increased scalability, computing threads and memory resources as well as greater reliability for data centers.
"This scales a lot farther than any of the existing server processors in Intel's existing family. Up until now, to scale, you had to go to multiple sockets. That is a little more complicated and a little more costly to do. Any time you can add more horsepower in general is a benefit, especially when you think about the virtualized environment, because the virtualization process chews up horsepower," explained Ian Lao, an analyst at In-Stat.
Based on Intel's 45nm high-k process technology and transistors using a Hafnium-based, high-k metal gate formula, the 7400 series provide enhanced performance while consuming less power. In some instances, the chips offer a 50 percent performance boost and as much as a 10 percent reduction in platform power, Intel said.
"45 nm is good because you know have the thermal and power management capabilities on that node. When you have a smaller process node, you can run the part at a lower voltage and clock it faster," Lao told TechNewsWorld.
The 45 nm factor is a big benefit because IT administrators will no longer have to use "big, beefy power supplies — instead they can use mid-range power supplies," Lao continued.
Virtual Welcoming Party
The 7400 series features the company's Virtualization Technology FlexMigration, which allows enterprises to standardize their virtual infrastructures by enabling virtual machine migration from previous-, present- and future-generation Core microarchitecture-based platforms, Intel said.
That functionality in intended to provide investment protection for administrators looking to establish pools of virtualized systems and use them to facilitate disaster recovery, load balancing and optimizing tasks for server maintenance and downtime, the company continued.
The chips fit well into virtualized scenarios, said Gary Chen, principal analyst at McChen Research.
"Like most processor advancements, it's all about faster, more cores, more cache. I think the big feature, though, is the FlexMigration. This will really enable enterprises to open up their VM migration," he told TechNewsWorld.
"This eliminates a lot of that restrictiveness. The next big thing for Intel will be extended page table support, which will specifically boost [virtual machine] performance. That will be part of the Nahalem release," he added.