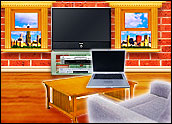 Broadband television provider Revision3 has launched "The Digg Reel," a show dedicated to user-generated content.
Digg, a social networking Web site where users share and submit content, will take the top-rated user-submitted videos and produce a weekly show, which will be hosted by Jessica Corbin. The program, posted each Wednesday, will also include user-submitted critiques and comments about the videos as well as interviews with people who submit their content.
While creating a program that filters content may seem counter-intuitive for a community-driven site, Revision3 CEO Jim Louderback said it was simply a natural extension of Digg.
"By harnessing the power of the Digg community, we can find and summarize the best of the best," Louderback said. "Our new show is your one-stop shop for the best of the Web's video each week."
Broadband Business Growth
It's impossible to predict the impact of either Revision3 or "The Digg Reel," but there are indications that online broadband media is growing. More powerful computers and media-enabled mobiles have created an environment where it's a much more pleasurable experience to watch video using the Web.
The problem for many smaller broadband Web video upstarts is that consumers — while watching more video — still tend to gravitate to traditional television network Web sites during very specific time slots, according to a report by Nielsen//NetRatings in April 2007. The study found that adults spend 13.7 percent of prime time hours between 8 p.m. and 11 p.m. at television Web sites, while younger viewers dominate between 5 p.m. and 8 p.m.
The good news for startups is that current trends may be changing, according to the report, as younger viewers are finding their way to video through social networking sites and alternative entertainment channels.
Potential Pitfalls
Still, the future of broadband entertainment may face many of the same hurdles that young cable networks face today: how to find space on an increasingly controlled network.
ESPN partnered with more than a dozen Internet service providers such as Verizon. The partnership gives ESPN direct access to the ISP's network, which ensures a quality level with which other smaller companies may not be able to compete. The streaming broadband network, which includes broadcasts of college sports, can also only be viewed by the ISP's subscribers.
"They have attempted to create a side broadband channel directly with the carriers," said Geoff Allen, chairman of Anystream, a broadband distribution platform provider. "It has adequate bandwidth and because of that they have the best chance to succeed."
The Future's So Niche
Despite the potential problems, Allen said the modern history of media suggests that broadband start-ups such as Revision3 and programs such as "The Digg Reel" will find success where larger, more established companies fail.
The United States, for instance, grew from three networks, to a plethora of cable channels, to thousands of niche satellite and on-demand channels within 40 years, he said. With each expansion, new players entered the marketplace.
"If there is anything more fragmented than the Internet, I'm not enough of a visionary to see it," Allen told TechNewsWorld. "With the Web as it is today, there are no barriers to entry. You can set up your own broadband network without much trouble."