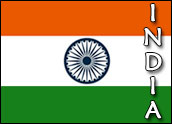 News programming channel Times Now will put video news content on Reliance India Mobile cell phones in India, a potentially huge marketplace that has shown early demand for mobile video.
The companies announced Tuesday that English-language Indian news programming for mobile phones will soon be offered to Reliance subscribers in the country, where cricket sports highlights and movie trailers have proven popular in early stages of the mobile video game.
News You Can Move
The launch of Times Now, a 24-hour news channel from Times Group & Reuters Service, comes to a region that has already seen more mobile video than other markets such as the U.S. and Europe.
Backers of the effort cited mobile TV growth and TV-enabled handset sales increases of almost 140 percent in 2004. TV-to-go is already a "way of life" in some countries, including South Korea and Japan, according to Reliance India Mobile CEO Sunil Lull.
"Times Now's association with Reliance India Mobile has created a unique solution for the urbanite," he said. "The urbanite continues to have access to news and information while on the move, enabling mobile users to stay updated around the clock."
Promotion Over Premium
The Indian marketplace is heavily saturated with mobile phones and is known for readily adopting new technology. At the same time, it remains a cost-conscious market, said Chetan Sharma, who recently authored a report on the Indian wireless market for DataComm Research.
Even if the content is compelling, pricing is more important to cell phone customers, Sharma told TechNewsWorld. For Times Now, he said, "market acceptance may lag."
Subscribers will be required to pay 3 rupees per day (7 US cents) to access Times Now content, or they may opt for a 25 rupees (56 cents)-per-month subscription. Video clips will be downloadable at 7-10 rupees (16-23 cents) per download. Users with streaming-capable handsets will be able to view streaming content in real-time at a price of 15 rupees (34 cents) per session.
Users have shown a willingness to pay for premium content in South Korea and Japan, however, the sale of content for mobile phones will be more difficult in India, Sharma explained, especially since most mobile video efforts thus far have been attempts to win market share and promote brands, rather than to bring in revenue. In addition, according to UNICEF data, India's average gross national income per capita is approximately $530.
Indian Innovation
Nevertheless, Times Now has decided to deliver the type of programming that "users want on mobile phones," Ovum vice president of wireless telecoms Roger Entner told TechNewsWorld.
Enter agreed that India was an ideal test market for such a service, though he did not believe it to be a significant barometer for the success and/or failure of the mobile video content market overall.