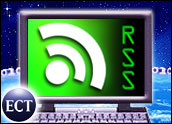 A new really simple syndication (RSS) feed aggregator from NewsGator touts the enterprise benefits of the blog form of communication, but analysts indicated RSS feeds have yet to substantially penetrate the corporate market.
However, RSS feeds — increasingly popular with consumers seeking to cut through the overload of newsletters and get only the information they are interested in — are on a trajectory similar to other protocols and communications platforms, such as instant messaging (IM), that went from largely entertainment to widespread enterprise use.
"I could see [RSS feeds] going the way of other great Internet protocols," Webroot vice president of threat research Richard Stiennon told TechNewsWorld. Although he predicted RSS success in the enterprise, Stiennon has also warned of the use of RSS feeds by marketers and the addition of spyware or even viruses to the blogs.
"Of course when it makes it to heavy enterprise use, that's when the attackers will go after the consumer side," he said.
Reaching Over RSS Humps
Regardless of those security concerns and the lack of businesses now using RSS feeds within their organization or with others outside the company, NewsGator announced this week its NewsGator Enterprise Server (NGES), praising the ease, synchronization, personalization and support of the technology. The server is expected to be available in the third quarter of this year, and will optionally integrate with Microsoft Exchange and Active Directory to ease deployment, NewsGator said.
"We've seen enterprise adoption of RSS increase dramatically over the last year, for both internal and external content," said a statement from NewsGator chief technology officer Greg Reinacker. "However, security and manageability concerns have limited its widespread adoption in many companies."
NewsGator also reported its new RSS server, based on the same engine behind its NewsGator Online Services, reduces bandwidth consumption by scanning feeds only once regardless of the number of subscribing users, and is intended to centralize deployment and management of RSS feeds.
Early Hopes and Fears
Webroot's Stiennon, who said there have been anecdotal cases of viruses on RSS feeds, said the benefits of the blog in the enterprise setting are clear, highlighting RSS usefulness for corporate news, IT management and increased control with the ability to "build your own dashboard."
"The reasons for adopting it are all there," he said. "But only the very early adopters are looking at RSS."
Still, Stiennon added that because RSS readers and other infrastructure already exist and RSS capabilities are being built into the next version of Microsoft's Internet Explorer 7, RSS in the enterprise will be gaining traction.
From Fun to Formal
Maurene Caplan Grey, founder and principal analyst with Grey Consulting, told TechNewsWorld RSS appears to be on the same path as instant messaging, which began as a "fun thing," but has earned the blessing of IT departments and become a critical corporate communication platform.
While she agreed that corporate RSS deployment and acceptance is now very minimal, Caplan Grey said the business benefits of RSS and its more focused information are likely to fuel the technology in the enterprise.
"This is the beginning, and once the connection is made that it's not just information, it's information that's focused to what is useful, it leads you to moving from tactical to strategic, and that's where you start accruing benefits," she said.