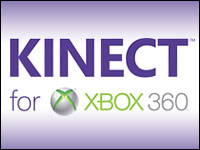 The next generation of Microsoft's Kinect input device may be able to read users' lips and emotions, according to a Monday report on Eurogamer.
The forthcoming device, which is expected to come bundled with Xbox consoles, will not just sense motions the way the current Kinect generation does, but will also allow games to read lips, recognize which way players are facing, and detect when they are angry, Eurogamer said, citing development sources.
To assess players' emotional states, Kinect 2 will reportedly track their facial characteristics, as well as the pitch and volume of their voices.
Microsoft did not respond to our request to comment for this story.
A Matter of USB
Limited USB technology is at the heart of why such technological feats haven't been possible so far with today's Kinect devices, according to Eurogamer.
Specifically, Kinect devices currently send data to the Xbox 360 through USB technology that's limited in capacity in order to accommodate the fact that multiple USB devices can be used simultaneously on an Xbox 360.
The new device, on the other hand, won't be limited in that way and so will apparently be able to transmit higher volumes of information at once.
Various media reports put the launch for the new Xbox in late 2012 or 2013.
New Market Potential
"If the rumors of Kinect 2's performance are true, it's possible the device could make inroads with core gamers," Ted Pollak, a senior analyst for the gaming industry with Jon Peddie Research, told TechNewsWorld.
"Core gamers did not really find any significant use for the first Kinect, and it was primarily used by casual gamers," Pollak pointed out.
Head tracking, however, is a feature that could appeal to more serious gamers, he noted.
"Head tracking analyzes a gamer's head movements and amplifies these movements in the game, allowing the player to look around in an aircraft or while driving a car," Pollak explained. "It can also be used first person when the player is on foot in a game, allowing one to visually scan the environment without altering their direction of travel or entire body."
Early experiments in this area with the first Kinect device found that fidelity was inadequate, he added.
'A Controller for Content'
Of course, Kinect has already found a wide array of applications outside of gaming as well, and these new capabilities — if indeed the rumors turn out to be true — would likely expand its reach in such areas even further, Pietro Macchiarella, a research analyst with Parks Associates, told TechNewsWorld.
Medicine and the arts are two such areas, according to the Xbox site, but "the biggest trend I see for Kinect is becoming a controller for content," Macchiarella said.
In that case, Kinect would serve a function much like an advanced remote control that's primarily voice-activated, he explained.
"It will be very impressive," Macchiarella said. "You can actually switch from one form of content to another, or say things like, 'forward,' 'pause' or 'skip.' It makes it very cool."
'It's Becoming a Multimedia Hub'
Lip-reading capabilities would further improve users' ability to control the technology, he pointed out, not just in gaming but in other areas as well.
In particular, they'd be especially useful for overcoming barriers imposed by users' differing accents, which can typically present a significant challenge for voice recognition. By focusing on users' lips as they speak, on the other hand, the new technology could make it so that accents and subtle differences in pronunciation don't matter so much, he pointed out.
In any case, the trend moving forward is that "Xbox is becoming a device that's different from other game consoles," Macchiarella concluded. "It's becoming a multimedia hub that's not just about gaming but about accessing content."