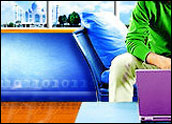 Small outfits have been providing high-speed wireless Internet service to rural and isolated communities for a couple of years, but now larger players, such as Verizon and more recently Nextel, have begun their Internet-access plays to compete with cable and DSL broadband as well as one another.
While Verizon is rolling out its own wireless broadband service across the nation, Nextel announced this week that it is expanding a wireless broadband trial to double its coverage that began in February. The company said the expansion followed early success signs in measuring network speed and performance as well as customer response.
Nextel spokesperson Aaron Radelet told TechNewsWorld that the company has not committed to further expansion of the Nextel Wireless Broadband service yet.
"We will evaluate the trial, and then we will decide where to go from there," Radelet said.
Limits and Need
Forrester analyst Lisa Pierce said the broadband services from wireless carriers will be interesting to watch as the companies seek new customers, but not too many of them.
"The issue with this kind of service is the same with any other broadband service, and that is the number of simultaneous users on it at the same time," Pierce told TechNewsWorld.
Pierce added that to be successful in its technology and marketing experiment, Nextel will need to deploy the service in many more areas. "That's a lot of upgrade," she said. However, the analyst indicated the wireless services have a role to play.
"They will not be able to serve many users, but certainly it's a godsend to people who cannot get access otherwise," she said.
Paying Pilot Program
Nextel's Radelet said the expansion of the company's experiment, set to run until the end of the year, will allow Nextel to measure its results on a large scale with actual paying customers.
Pierce said landline broadband access, such as cable, DSL and possibly powerline Internet access, likely will continue to rule in densely populated areas because of the higher number of potential users. "I think we will find different solutions in different places. In both instances, it's a delicate balancing act," she noted, referring to the desire for new subscribers balanced against the technical burden of them.
Into the Enterprise
Yankee Group program manager Roger Entner said both Verizon and Nextel — among the top enterprise wireless providers — are trying to push deeper into enterprise use.
"These two are the enterprise leaders, and they are really raising the bar again," Entner told TechNewsWorld.
For Verizon, which has established itself as a quality provider, the wireless broadband offering adds another dimension to the company's leadership, according to Entner. Meanwhile, he said, Nextel is building on its solid market share and bringing a faster technology into play.
However, Entner said Nextel is already spectrum constrained. That may change as the Federal Communications Commission considers a spectrum deal with the company in exchange for an emergency services frequency arrangement.
Pierce said the matter is heating up because rival Verizon has offered to buy the spectrum, which may pressure the FCC to open up the spectrum to bidding.
Multimodal Moves
Entner said that with their broadband offerings, the wireless carriers are "really completing the vision of untethered access."
And Forrester's Pierce, who referred to the long wait for wireless data services to arrive, said the carriers' interest in wireless broadband service may help make computing multimodal from desktop to laptop to cell phone.
"I'm thrilled that, in some cases, the beginning of multimodal competition is back," Pierce said. "That may be more useful for small business than for a larger company."