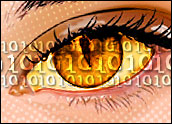 Nielsen and Digimarc on Wednesday announced a new service designed to let media companies, social networks, peer-to-peer services and user-generated content sites monitor and manage the distribution of media content.
The Nielsen Digital Media Manager, slated to be available in mid-2008, will use digital watermarking and fingerprinting to provide a more reliable way to track content. Nielsen and Digimarc are working together to develop the service with the aim of helping clients realize the value of their digital content, promote the expansion of Internet-distributed media, and facilitate revenue streams such as ad-pairing and e-commerce royalty reporting, the companies said.
"We believe these services will stimulate the growth of online video distribution, to the benefit of consumers, content providers and distributors," said David Calhoun, Nielsen's chairman and CEO.
New Revenue Opportunities
Nielsen already uses digital watermarking to encode 95 percent of national television programming for its television ratings service, and the new service will focus initially on the online distribution of television content in the United States.
"Until now, the lack of an independent, industry-accepted identification and tracking service has limited the transactions that allow the delivery of media content over the Internet," Calhoun said. "Now, with our new media identification and management service's unique ability to identify content throughout the Internet, both content providers and distributors can protect and monetize the value of online media."
Nielsen and Digimarc also plan to work with the media industry to digitally watermark DVDs, movies, music, video games and other content in subsequent phases of the rollout, the companies said.
Ensuring Legitimacy
Benefits of the new service to content managers will include the ability to leverage the popularity of new media distribution channels by identifying what content is being shared, viewed, mashed up or accessed. Based on that information, they can make decisions about what content to allow on such sites as well as where and how to distribute content while developing new revenue streams, and how to measure the effectiveness of associated marketing campaigns, Nielsen said.
Content owners will also gain the ability to verify that content on their sites is legitimate and establish new relationships with content owners and explore new revenue opportunities.
Consumers, meanwhile, will gain access to more related goods, services and communities, and be able to more easily find video content when they want it, regardless of format or operating system, Nielsen said.
A Trusted Brand
"I think in the case of video there does need to be piracy protection, and everybody's already made that pretty clear to YouTube, which is working on its own solution," Phil Leigh, senior analyst with Inside Digital Media, told TechNewsWorld.
Earlier this year, YouTube announced it was investigating fingerprinting technology to verify the legitimacy of content on its site.
"A lot of people are working on the problem, and Nielsen's announcement indicates there's one more party involved," Leigh explained.
Nielsen's advantage is that it already has a trusted brand, though that "doesn't necessarily mean it will come out the leader," Leigh said. "Borders and Barnes & Noble had the brand for books, but they turned out to be also-rans for online bookselling."
Devil in the Details
Of course, there doesn't yet seem to be a clear leader in piracy protection, while Borders and Barnes & Noble had Amazon to contend with, he added.
For Nielsen to achieve success with its technology, "the devil will be in the details," Leigh noted.
Music DRMs have proven to be controversial and problematic, Leigh pointed out, due at least in part to the way listeners want to keep music libraries and be able to move their music from one device to another.
Video is consumed differently, however, so "I think it will be less of a problem with video," he said.
An Important Announcement
This is a "very important" announcement for Nielsen, and is being driven at least in part by its need to be able to rate advertising spots and tell advertisers who has watched their ads, Gerry Kaufhold, a principal analyst with In-Stat, told TechNewsWorld.
"Nielsen has been working for probably the last five years on technologies that let them verify that ads get watched," Kaufhold explained. "This is part of a really long-term trend where they need to track the actual ad, since that's where the money comes from."
If Nielsen hadn't jumped in with this service, there's a good chance Google or another player might have, "and then Nielsen loses the Internet as a market to measure," he added.
'A Battle Royale'
"Google and MSN and Yahoo all would love to take care of the advertising, so this is a battle royale between the broadcasters and the traditional Internet advertising services," he explained.
"As long as Nielsen can keep in the process they can survive, and that's important for a lot of broadcasters and media buyers," who want advertisers to follow content online and eventually into mobile, he said.
"Nielsen is acting as a bridge between traditional broadcasters and the advertising community," Kaufhold concluded. "We've been waiting for something like this from them for about a year."