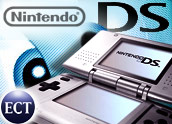 After scoring a hit among the senior citizen crowd with its "Brain Age" line of games, Nintendo has taken its quest to help the aging remain youthful to the next level — the face.
Named "Otona No DS Kao Training" or "Face Training," the game, according to reports, will include a camera that plugs into the portable Nintendo DS game system and takes video images of the players' face as they use the game. Known as "facening" in Japan, the facial exercises taught by the game promise to imbue users' skin with greater elasticity for a more attractive and youthful appearance.
DS Learning 101
While Nintendo confirmed the release of the game and its add-on camera accessory in Japan, the company did not provide any details on a worldwide release or whether other games are in development for use with the camera.
The release will mark the first time since its 1998 launch of the Game Boy Camera that Nintendo has developed a camera accessory for a portable device. The announcement comes a little more than one month after Sony announced the "Go!Cam" for its PlayStation Portable (PSP) gaming console.
Nintendo has enlisted the aid of facening expert Fumiko Inudo, noted Wired's Chris Kohler. "Face Training" will hit stores in Japan on Aug. 2 and retail for 4,800 yen (US$39), according to the company's Japanese site.
"This is likely to be a huge hit in Japan, but insignificant in the U.S.," Van Baker, a Gartner analyst, told TechNewsWorld. "In general, add-on cameras tend not to be very successful."
A Japanese Thing
Considering the DS's demographic in the U.S., which skews heavily toward young males, the camera accessory will probably not be that popular here, Rob Enderle, principal analyst at Enderle Group, told TechNewsWorld. Although the company seems to be on to something with its "Brain Age" games, "Face Training" takes the company too far outside its core demographic, he pointed out.
"'Brain Age' appeals to men and women, but 'Face Training' is mostly [for] women. [I] think it is too far from the core audience [but] may work in Asia, though."
The move appears to be an attempt to broaden the DS base to include women, Enderle said, but he doubts "Face Training" will do the trick, were it to make its eventual way to the U.S. market.
"If this were a phone, I think it could work, but [I] doubt many women are going to buy a handheld gaming system typically targeted at the young teen and pre-teen segment," he explained.
In fact, Enderle is skeptical that Nintendo will ship the game and its camera beyond Asia, as he does not believe there is much of a market in the U.S. for this specific type of game. However, he added that Nintendo could be onto something with the camera if they can develop games that use facial expressions with characters during game play.
"Translating facial emotions to game characters would seem to be a natural for networked games," he concluded.