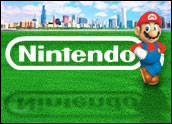 Nintendo unveiled its new DSi portable game system Wednesday in Japan. The revamped portable game console reportedly sports a larger screen; not one, but two 3-megapixel cameras, and an audio player. The DSi replaces Nintendo's very popular DS and joins the DS Lite, the company's other handheld gaming device.
The DSi is 12 percent slimmer than its predecessor. It features storage as well as an SD card slot for expandable memory when downloading content from the Nintendo DS Ware shop.
Available in Japan on Nov. 1, the handheld device, which comes in white and black, will be priced at 18,900 yen (US$179). At a press conference held Thursday, Reggie Fils-Aime, president of Nintendo of America, said it will be late 2009 before the DSi is launched in the U.S.
DSi Style
With Nintendo's new DSi, users will be able to edit pictures using the device's touch screen. The audio player also includes the ability to adjust the pitch and playback speed of audio files.
Software available from the "Nintendo DS Shop" will fall into four categories: free, 200, 500 and Premium (800) Nintendo Points. Consumers will receive 1,000 of the newly designated "Nintendo Points," formerly "Wii Points," when they purchase the DSi by March of 2010.
"The additional features, like the camera and audio playback, will appeal to those consumers beyond the traditional gamer. And as we've seen, Nintendo has been quite successful in its strategy to push beyond the traditional gamer demographic — males between 18 to 34 years of age — in order to reach younger children, women and even older adults," Stephanie Ethier, an analyst at InStat, told TechNewsWorld.
However, Ethier said, she is not convinced that a slimmer product and larger screen will be major purchase factors. "But the additional features, like the built-in Web browser and the audio and imaging, are additions that consumers may consider strongly when deciding between the two different brands of handheld game consoles — Sony vs. Nintendo."
With the DSi, Nintendo is hoping to convince DS or DS Lite owners to upgrade, and in the meantime, it will keep expanding the market with its cheaper DS, Michael Cai, a Parks Associates analyst, told TechNewsWorld.
"However I'm not convinced right out of the gate a lot of DS or DS Lite owners will rush out to get one. The question they'll ask themselves is, do you want to get a bigger DS with less battery power and no GBA (Game Boy Advance) support for 30 to 40 percent more?" he said.
"The DSi is certainly not a revolutionary device, unlike the DS," he added.
That said, the DSi's dual camera feature could make it a must-have device if Nintendo is able to develop games that take advantage of it.
"I believe Nintendo will eventually come up with some innovative games that leverage the dual cameras. With the camera and music player, DSi might as well become more than a gaming device for many, most likely younger demographics," Cai noted.
Breaking the Slump
While Nintendo has sold some 77.5 million Nintendo DS units worldwide versus 41 million for Sony's PlayStation Portable (PSP), sales of the device had begun to slow in recent months.
"It's hard to say, but it will certainly breathe new life into sales of the handheld. Sales have been slowing in Japan, and this will more than likely cause huge sales spikes in the run-up to the holiday," Tom Orry, editor of Videogamer.com, told TechNewsWorld.
The new DSi is pretty much what Orry expected.
"I expected the digital camera to be better quality, but other than that, Nintendo has included a number of new features and tweaked the design quite considerably," he pointed out.
Had he been asked, though, Orry would have included other features.
"There are a lot of things I'd have liked to see, but most would probably be best saved for a true successor to the DS. As another update to the hardware, Nintendo couldn't really change things too drastically, so it's more a case of building in additional features that aren't going to be essential to future DS games," he said.