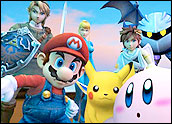 Jazzed perhaps by a successful showing at last week's E3 Media and Business Summit, as well as continued strong sales of his Wii video game console, Satoru Iwata, president of Nintendo, told a Reuters reporter Thursday he believes the console could touch the stratosphere and top the PlayStation 2 (PS2) in sales.
The PS2's over 100 million sales since its release in 2000 was an "extraordinary number" that the Wii has not yet reached, said Iwata. However, he continued, if Nintendo can maintain its thus far successful effort to expand the gaming population, the company could exceed Sony's success with the PS2.
Industry watchers, however, are not as confident that Nintendo will be able to sell another 92 million Wiis worldwide.
"Not a chance," Michael Pachter, a WedBush Morgan analyst, told TechNewsWorld when asked whether Nintendo could achieve such a feat.
Go Big or Go Home
Nintendo has sold some 8 million units worldwide since it launched the Wii in November 2006, according to figures from Parks Associates. Wii is the console to beat for Microsoft and Sony. In the U.S., the Japanese game maker sold over 338,000 units in May for a total of 2.82 million sold here in the seven months since its release, according to sales figures from NPD Group.
Although Pachter does not believe Nintendo can hit the 100 million mark, he acknowledged it is possible the Wii maker could sell 90 million units. However, he added, "that's a tremendous stretch, compared to Sony's 110 million last cycle." Sony, he continued, was able to take over the market with a 65 percent share, leaving Microsoft and Nintendo to make do with the 35 percent that remained.
"Nobody has a prayer of over 50 percent this time," he noted. "It's too competitive."
"I'll say the jury is out," Michael Cai, a Parks Associates analyst, told TechNewsWorld, adding that he was cautious about making such a bold prediction until the Wii has been on the market for at least two years.
However, James McQuivey, a Forrester Research analyst, told TechNewsWorld that he could see it happening if Nintendo is able to "maintain current sales rates for five years." Sustaining that type of growth, however, would require an almost constant stream of innovation with new games that "keep casual gamers' attention," he acknowledged.
"Not just game, but more physical interaction, like they've done with the new pad that allows for games of balance and even exercise," he said. "So, if they have more of those innovations up their sleeves, it could account for their confidence."
Back to Reality
All three analysts agreed that the more conservative prediction was given by Nintendo America President Reggie Fils-Aime on Monday was definitely an attainable goal. The Wii, Fils-Aime told Reuters, would sell another 14 million units by the end of the current fiscal year in March 2008.
The company will exceed that number because the console appeals to everyone who "cares about casual games," which also encompasses hardcore gamers, Pachter predicted.
Nintendo can reach or surpass the 14 million target, agreed Cai. Although the console is hard to find in the U.S., the potential immediate demand still exceeds current demand, he noted.
"It is important to understand that the Wii is turning everyone into a gamer, and it's really not directly competing against Xbox 360 and PS3 in that respect," he explained. "Therefore, we don't believe, in the near term, Sony and Microsoft will have a huge impact on Wii sales no matter what they do.
"The Wii is no longer just a game console — it's become a family entertainment platform, just like what TV used to be," he concluded.
The question, according to McQuivey, is whether Nintendo can sell 6 million units during the coming holiday season. "If so, then 14 [million] is entirely possible," he said.
"The secret to hitting that market is to avoid the temptation to compete with Microsoft and Sony," he continued. "Those two will sufficiently wrestle each other for the typical gamer throughout the holiday season, leaving Wii to pick up the crumbs — millions of them, homes with average people who want a modern equivalent of the old days of charade and board games.
"That's what the Wii is a direct replacement for, and so far it's working, outselling the competition," he concluded.