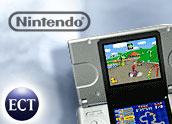 Nintendo is looking to revisit its GameBoy days, when the Japanese company was practically the only player in the mobile hand-held market, by including WiFi wireless capabilities in both its next-generation Revolution console and its DS, a dual-screen handheld gaming device.
Nintendo President Satoru Iwata announced the forthcoming wireless functionality, as well as Revolution's new silicon technology, at the Game Developers Conference 2005 in San Francisco this week. He also demonstrated new games using the latest features from Nintendo, which included voice recognition, touch-screen control and wireless connectivity.
"This is Nintendo's plan: Make our existing game world better," Iwata said in a statement.
Forward with Wireless
Gaming industry observers and developers said that although the technology has the potential to take gaming to a higher level, it also presents some challenges, particularly in regard to the infrastructure for more wired and wireless multiple-player action.
"Wireless is going to be the way to go" in portable players, Parks Associates analyst Michael Cai told TechNewsWorld, pointing out that the Ninendo DS, Gameboy and Sony PSP will all enable wireless gaming.
Nintendo told a crowd of video game developers at GDC — some of whom received free high-definition TVs from Microsoft earlier at the conference — that its new console is on schedule and will have built-in WiFi protocols that will enable connected gaming for users all over the world. The Revolution will feature backward compatibility with Nintendo's GameCube.
Nintendo will also soon be offering a free WiFi connection service to owners of the Nintendo DS. Iwata said the service will be available later this year and will allow DS users to connect wirelessly at WiFi hotspots at home or in public. The company said its development team is also creating a new "Animal Crossing" game, as well as several others, for global WiFi play.
Zelda Goes Broadway, Hollywood
Although it offered few details on the Revolution's timing or pricing, Nintendo did indicate the gaming device will be powered by an IBM processor code-named "Broadway" and a graphics chip set from ATI, code-named "Hollywood."
Iwata also showed developers at GDC previously unreleased footage of the new "Legend of Zelda" adventure game for the company's GameCube console. The game is expected later this year, and Nintendo said it is hoping for a blockbuster.
Gaming industry observers highlighted the fact that while Microsoft may not make its next-generation Xbox compatible with older games, both Sony and Nintendo have heralded backward compatibility for their next devices.
Counting on Connected Gaming
Parks Associates analyst Cai said in addition to wireless, another trend shaping the industry is the multiple-player game that allows users to face off over the Internet or other networks.
"I do believe connected gaming will be the next big wave," he said. "A lot of people between 18 and 24 are already playing with family and friends on a home network, but of course with WiFi connectivity, they can leverage that connectivity and play with other players on the Internet."
Cai said that connecting players has the potential to make casual gamers into heavier users and expand the market. He also noted, however, that players want interoperability among different platforms.
"According to our survey, consumers are already playing networked games," he said. "They're very interested in connection service that allow them to play different players across different consoles, for example console and PC."