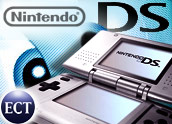 As Nintendo seeks to keep its command of the mobile gaming market with the dual-screen DS handheld unveiled this week, Sony will try to make the market a dual-player game with its forthcoming PlayStation portable device, the PSP.
Touting two 3-inch, color, LCD screens and two ways to connect wirelessly — 802.11 WiFi and Nintendo's proprietary format that allows wireless, multiplayer action off one game card at 30 to 100 feet — Nintendo called its DS "the most innovative game platform in a decade." The device is immediately available in North America and sells for US$150.
While it will not be selling its new handheld device in the U.S. for another year, Sony is set to take the PSP to the Japanese market and is promising PlayStation2-quality graphics and other features, including media capabilities that may attract a more mature market, according to analysts.
GameBoy Grows Up
While it has held a virtual lock on the mobile gaming market, Nintendo said its new DS changes the game with its wireless, multi-player abilities, dual touch-screens, PictoChat communication feature and more.
"[Retailers] are reflecting the demands of game players for entirely new ways to enjoy games — not just by playing the same old games on a different platform," said Nintendo executive vice president of sales and marketing Reggie Fils-Aime in a statement. "It really comes down to delivering a new experience and that's what we're doing."
The DS, which features an embedded microphone for voice recognition, could allow as many as 16 users to chat with its PictoChat feature.
Nintendo, referring to a variety of games from Madden NFL 2005 and Tiger Woods PGA Tour Golf to Sims in the City and Super Mario 64 DS, said it hopes to have shipped one million of the handhelds in North America by the end of the year. With an expected library of 20 to 25 titles by the end of March 2005, the company plans to have four million units sold worldwide by then. Nintendo also indicated the DS will launch in Japan Dec. 2
DS: Domination Security
Parks Associates analyst Michael Cai said that the DS comes at a time when Nintendo is seeing its first challenge on the mobile platform.
"Up to this point, it's just basically been GameBoy," Cai told TechNewsWorld.
However, Sony is looking to add extra features, such as music and movie-playing capabilities, to lure both Nintendo users and older game fans.
Cai, who reported that 45 percent of U.S. households with Internet access include mobile gaming device buyers, said the competition from Sony will likely grow the market and take users from Nintendo.
PSP Makes a Play
Sony, expected to roll out the PSP in Asia early next month, has indicated the graphics of its first handheld device will rival its leading PS2 console.
The company has also signaled it is building wireless capabilities similar to the DS into the PSP.
Cai said the PSP is apparently dropping from its original expected price point of more than $300 down below $200, which is attractive to buyers. The analyst indicated Sony would do well to move slightly beyond the traditional youth market for the devices.
"Sony, if they are smart about it, should probably focus on a different segment of the market," Cai said.