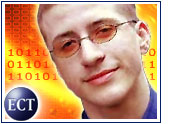 A Norwegian court has upheld a lower court exoneration of the man charged with cracking Hollywood's copy-protection technology for DVD movies. The software crack, known as DeCSS, earned then 15-year-old Jon Johansen the nickname 'DVD Jon.'
Now 20 years old, Johansen was cleared when a three-judge panel rejected charges that he had accessed DVD movies illegally using his own Linux player. Prosecutors took advantage of Norwegian law's permission of an appeal, but the appellate court upheld the earlier decision Monday, reaffirming that Johansen had not broken the law by cracking the code and posting the feat online.
Electronic Frontier Foundation staff attorney Wendy Seltzer said the court was actually contemplating whether or not U.S. law. — specifically the Digital Millennium Copyright Act (DMCA) — applies in Norway.
Indicating that the ruling might have implications in the U.S. case of the Copy Control Association (CCA) v. Andrew Bunner, Seltzer told TechNewsWorld that the "final acquittal" breaks apart the movie industry's claim to have trade secrets in the DeCSS program written by Johansen and later published by others, including Bunner.
That case has been sent back to a lower court with a finding that once information is widely spread, it cannot be protected as a trade secret even if it once was one, according to Seltzer.
Accessing His Own
In Oslo, Johansen faced a penalty of as many as two years in prison if prosecutors had succeeded in convicting him of violating a Norwegian law that forbids breaking into digital data without the right to access it.
However, the case — in which the Norway Economic Crime Unit was "heavily prodded by U.S. movie producers," according to Seltzer — marked the first time the law was used against someone for accessing his own property. The court ruled that because the crack involved his own DVD disc, Johansen's actions were perfectly legal.
"Both the Norwegian city and appeals court have wisely recognized that when you buy a DVD, you own it," said intellectual property attorney Robin Gross, a Johansen proponent and executive director of IPJustice.org. "Hollywood does not have the right to tell you how you may use your property."
Need To Back Up
Halvor Manshaus, who defended Johansen in both the Oslo City Court trial and again on appeal, said the ruling draws a line between the interests of owners and distributors of intellectual property and those of consumers.
The court ruled that although the DeCSS program can be used to make illegal copies, that was not Johansen's intent and he had not made any copies, instead choosing to play his own DVD on an alternative, Linux-based player.
The court deemed this to be fair use and also recognized the need to make backup copies, according to Manshaus.
"The court mentions that optical storage media easily can be damaged, making it important for consumers to have the option of making a backup copy within already defined 'fair-use' terms," Manshaus said in a statement.
Encourages Circumvention
In response to the ruling, the MPAA reserved its decision to appeal to the Norwegian Supreme Court and indicated it will lobby for legislative changes "if the present decision is the courts' final word on the matter," according to a statement.
"We hope that the Norwegian legislature will move quickly to implement the World Intellectual Property Organization (WIPO) Copyright Treaty to correct this apparent defect in Norwegian law," the MPAA said.
"The actions of serial hackers such as Mr. Johansen are damaging to honest consumers everywhere," the association added. "While the ruling does not affect laws outside of Norway, we believe this decision encourages circumvention of copyright that threatens consumer choice and employment in the film and television industries."
Since battling the Hollywood establishment, Johansen has come up with another noteworthy crack, this one called QTFairUse, which allows the removal of copy protection from Apple's iTunes music files.
Although only a foundational program that leaves music files in unplayable form, QTFairUse is open-source software and is available for others to build upon and incorporate into other applications and devices, according to IP Justice.