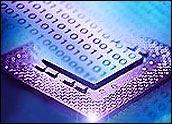 The GPU (graphics processing unit) universe grew Monday with releases from two major providers targeting distinct functions and markets.
Nvidia announced the availability of the inaugural chips in its new Geforce GTX 200 line of graphic processors. The GTX 280 and GTX 260 have 1.4 billion transistors and 192 to 240 processor cores.
AMD also unveiled its own new GPU, the FireStream 9250.
Unlike multi-core central processing units (CPUs), which involve connecting multiple CPUs together, GPUs are a single chip with millions — or in the case of the GTX 200 series, more than 1 billion — transistors on each chip.
Reality Check
Nvidia's 200 series offers PC users 50 percent more gaming performance over Nvidia's GeForce 8800 Ultra GPU and 9800 series GPU, the company claimed.
Featuring parallel and multi-threaded architecture, the flagship line is targeted at the enthusiast segment, according to Nvidia.
The chips are intended to boost performance for DirectX 10 games and are the first to include recently acquired Ageia's PhysX technology. PhysX is a bit of middleware, both hardware and software, designed to infuse games with reality-based physical responses. A rock pinged by a bullet in a game will respond as it would in the real world, for example.
The company is also readying to deliver its GeForce PhysX technology, according to Jason Paul, senior product manager at Nvidia.
"Within a couple weeks, we'll be rolling out our GeForce PhysX driver, which is going to allow the GPU to basically do a PhysX simulation to bring a whole new class of gaming effects on to the processor," he told TechNewsWorld.
Power Boost
The GTX 200 series sports twice the transistors of the GeForce 9800 GPU line, and the bulk of its 1.4 billion transistors are used as the GPU performs the necessary mathematical calculations for 3-D rendering. The remaining 280 million or so transistors, give or take, go to work helping to pump up the number of cores on each processor, boosting the count from 128 to 240 (on the GTX 280) and 192 (on the GTX 260).
The extra power enables GeForce GTX 200 chips to serve double duty, taking the hardware beyond the realm of gaming and into the field of high calculation computing. Combined with Nvidia's Compute Unified Device Architecture (CUDA), that allows developers to design applications that run using a GPU.
"One of the things we're doing beyond gaming is introducing a whole new set of non-graphic applications that are running on the GPU using the compute architecture inside the GTX 200, as well as our CUDA technology," Paul explained.
Folding@Home, for example, is a distributed computation program created at Stanford University that gathers computing power from millions of consumer's GPUs to perform complex calculations. Folding@Home and other similar applications run upwards of 140 times faster on the Nvidia processor than on traditional CPUs, Nvidia said.
"This is due to the much more highly parallel and multi-threaded nature of the architecture and the raw floating point processing power available in the architecture," Paul said.
"The CPU is very good at doing serial instruction intensive operations. Graphics processors are very good at doing data-intensive, highly parallel operations. So, the key here is getting a good mix of graphics processor and CPU on your system to handle all of these applications that really have a combination of serial and parallel operations," he added.
The GeForce GTX 280 will be available June 26 with a price of US$649. The GTX 260, priced at $399, is currently available.
Graphic Wars
Meanwhile, Nvidia rival AMD's FireStream 9250 processor is designed with an architecture distinctly different than the Nvidia chips. AMD's latest entry in the GPU market is a stream processor designed to boost critical algorithms in high-performance computing (HPC) in addition to more mainstream and consumer-type applications.
The FireSteam features 1 GB of GDDR3 (Graphics Double Data Rate 3) memory and includes a second-generation double-precision floating point hardware implementation that enables 200 gigaFLOPs, according to AMD. The compact-sized GPU is designed for small 1U servers, desktop systems, workstations and larger servers.
The FireStream 9250 and its supporting SDK (software development kit) will hit the market in the third-quarter of 2008 with a price of $999.