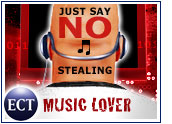 Great Britain's On Demand Distribution (OD2) might be the biggest online music downloader in the region right now, but the company is preparing for battle with the likes of Apple's iTunes and the reborn Napster, unveiling this week its own digital jukebox that will provide pay-as-you-go music for about a dollar per track.
OD2 said its SonicSelector PC plug-in would use Windows Media Player 9 to browse an online store, stream and download songs, burn CDs or transfer songs to portable devices other than the iPod from Apple, which is expected to announce its own UK play this week.
Roxio's Napster also has made moves to enter the European market, partnering with UK indie labels and extending its service overseas. At the same time, other local companies such as Wippit, an OD2 rival, have partnered with larger players, such as Sony, all making the UK and European music market an increasingly competitive one.
New Country Complexity
Gartner research director Mike McGuire told TechNewsWorld that the foreign online music market represents a much greater challenge in terms of copyright deals and contracts with different recording industries in the various nations.
"The copyright issues in other countries are going to be really, really hard to deal with," he said.
Yankee Group senior analyst Mike Goodman said that while music service providers might already have established relationships and license deals with record labels, they are starting from scratch in the still-immature overseas market.
"The complexity is the same — you're having to clear a new market and clear more of the same," Goodman told TechNewsWorld.
Local Launch
OD2 said its SonicSelector jukebox — with about 350,000 tracks from 12,000 artists — represents the most affordable, large-scale legal download service in Europe.
"Users can stream any song any time, and download or burn to CD the titles that they want to keep," said OD2 chief executive officer Charles Grimsdale in a statement. "The pay-as-you-go system allows the users to spend as little or as much as they wish each month without the burden of a fixed-rate subscription."
The OD2 jukebox, a free plug-in that provides songs through streaming, will reward customers who purchase music by lowering the unit price the more tracks a user buys. SonicSelector also features a "recommendation engine," which monitors user searches and matches them against listening habits of the entire database of music fans, generating recommendations for other titles.
Heard Round the World
Services such as iTunes and Napster have been duking it out in the U.S. market with no fewer than seven other major competitors, according to Goodman, who said the overseas market is much younger and not nearly as competitive yet.
Goodman said that while OD2 might have an advantage of local brand and established customer relationships, all of the services are looking to expand and compete globally.
"Ultimately, if you're going to have a music service, you're not going to be a U.S. or North American-only music service," Goodman said.
Power of Prosecution
Goodman said legal copyright enforcement efforts, such as those demonstrated by the Recording Industry Association of America (RIAA) in the U.S. — resulting in hundreds of lawsuits against file-traders — has not been paralleled by equally aggressive tactics in Europe.
However, that is changing as the recording industry and governments of the region begin launching lawsuits and levying penalties against peer-to-peer (P2P) use.
"Until recently, [the music industry crackdown against illegal file-trading] hasn't been particularly forceful [overseas]," Goodman said. "It has become more forceful. They have certainly made some efforts."