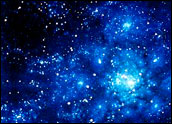 Call it proof that no one's above the common malware attack: NASA's own International Space Station laptops fell victim to an infection attempt, the space agency has revealed. The bug was caught and stopped before any damage was done, but the incident is raising awareness of just how easily harmful code can reach any computer — and how important is really is to take preventative precautions before your own system is hit.
The virus detected at the Space Station is believed to be W32.Gammima.AG worm, a year-old bug designed to steal passwords from online gamers. It's not yet clear exactly how the code reached the Space Station's computers, since no direct Internet access is installed there.
Entry Denied
NASA says this isn't the first time it's detected malware on its systems. The agency insists, though, the viruses have never posed a significant problem.
"The protection software automatically quarantined the virus," spokesperson Kelly Humphries told TechNewsWorld. "The virus did not attempt any malicious or destructive operations. The virus was never a threat to any of the computers that are used for command and control station and hasn't had any adverse effect on the station operations," he said.
NASA, understandably, won't discuss any specific protection measures in place. Its systems are secure, though, Humphries indicated — and the virus's short-lived presence is not raising considerable concern.
"This is really just a nuisance for us at this point," he commented.
Finding the Source
Even with an uneventful ending like this one, security experts say the discovery of any trace of malware is something worth taking seriously — and fully investigating.
"How it got there is really the question they should be asking themselves," Dave Marcus, director of security research and communications for McAfee Avert Labs, told TechNewsWorld. "If there's no direct Internet access, like they're saying, and there's no intranet access, like they're saying, then it was probably transferred onto it either via a CD or USB stick or something like that," he suggested.
The first step one should take in that scenario, Marcus said, is narrowing down that source — then making sure the entry point is sufficiently protected so additional pieces of malicious code can't come through.
"If I was them, I would take this as a wake-up call, because it could have been a far more nasty piece of malware," Marcus noted. "The presence of any malware should be taken very seriously — but it could have been a lot worse," he said.
Proper Protection
The true protection, of course, starts long before any virus enters a system. Aside from implementing and maintaining up-to-date protection software, Web users need to keep careful tabs on what sites they visit and what links they follow.
"More and more, it's simply unsafe surfing that's exposing [users] to malware these days," Marcus pointed out.
It's not just the Internet, though. Many viruses, including the W32.Gammima.AG worm believed to have made it onto NASA's systems, are commonly spread through external media devices — USB memory sticks, cameras, or any other plug-and-play type gadgets with their own hard drives. The problem is that many Windows systems are configured to automatically run programs on these devices the moment they're plugged in.
"[Users] really need to consider having those kinds of things disabled, so you have to load them manually. That way, if that external device actually has a piece of malware on it, the auto-run functionality is disabled and it won't at least automatically copy itself over," Marcus advised.
"That's a very good best practice for everybody to implement," he added.
"Everybody," of course, isn't just limited to earthlings — because, as NASA's brush with computing's dark side reveals, viruses know no boundaries … and anyone can become a victim.