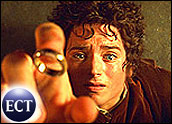 Lord of the Rings (LoTR) fans now have the opportunity to cast themselves as their favorite Hobbit, Elf, Dwarf or Man. Game software makers Turbine and Midway announced Tuesday the release of "The Lord of the Rings Online: Shadows of Angmar (LoTRO)."
The game is the first massively-multiplayer online (MMO) game based on J.R.R. Tolkien's popular trilogy set in the mythical realm Middle-earth.
"The release of "The Lord of the Rings Online" marks a momentous occasion for MMO gamers and Tolkien fans around the world," said Jeff Anderson, president and CEO of Turbine. "Countless adventures await gamers eager to experience Middle-earth in an entirely new way and we're confident that once they've visited this epic world, they'll never want to leave."
The game, in development for more than four years, lets LoTR fans experience the perils and adventures of Middle-earth as an interactive experience brimming with life and filled with the familiar people, places and monsters from the much-loved fantasy novels, Turbine said.
One Ring
Beta-tested by roughly 1 million gamers, "LoTRO" has been hotly anticipated by Tolkien fans, Rob Enderle, principal analyst at Enderle Group, told TechNewsWorld. He expects the release to be tremendous.
"Anticipation for this game was huge," he said. "However, among those already in games like 'World of Warcraft,' there didn't appear to be as much buzz."
The game, Enderle explained, stays very close to Tolkien's vision, and the graphics are not only stunning, but very consistent. While Electronic Arts owns the rights to LoTR film-based games, Turbine has successfully crafted the game based on completely new adventures.
For Tolkien fans, this appears to provide an amazing experience. In the game, players can create their own unique character as one of the several types of beings found in the novels — Man, Elf, Dwarf or Hobbit — and then choose to fight alone or with other players.
The game also offers players a chance to craft arms to fight the Dark Lord Sauron or live a simple life of farming, cooking and drinking in the Shire. Whatever form they choose, gamers can communicate via chat, emotes or voice and even generate their own game soundtrack using their music skills.
Developers also included a bevy of tools such as a Google Maps version of Middle-earth that is accessible by subscribers.
Taking a page out of the social networking world, each character created by players will have his or her own Web page on the game's official site from which they can post blog entries. To extend the gameplay even further, the game's makers included a spate of mini-games on the official Web site.
Gamers beware, however, as the mini-games' results will affect their progression in the real game. The site also contains a Wiki encyclopedia all about the "LoTRO" world.
"It will be interesting to see how well voice works in the game," Enderle noted. "While I personally love voice, I understand from developers that men who play women have found it a problem. And, little things like being able to create your own in-game music, the Wiki and Google Maps guides, and massive social networking features are all market-leading, and if successful, could transform future games."
Rule Them All
Due to LoTR's decades of popularity, software designers have made certain that the game is compelling for experienced MMORPG players, but also equally accessible for newbies to the genre.
The designers met their goal of creating less technical but still exciting gameplay that is equally accessible and will draw many LoTR fans that have never played an MMORPG, according to Enderle.
"This game is relatively unintimidating and, particularly for women who generally don't like to learn by playing, unlike men, this game could be very popular," he said. "I think it is a real possibility [that it will draw in LoTR fans], more importantly, it should show others how to open up this market and lead the way to a new class of less technical MMOGs in general."
MMORPGs have a global following of about 19 million gamers. "World of Warcraft" has a subscriber base of more than 8.5 million players, and its "Warcraft: The Burning Crusade" expansion sold 1 million copies during the first 24 hours of its release. "Burning Crusade" added another 2.5 million to the tally in the three months since it hit store shelves.
"This is one of those games that could be a real game-changer, expanding the available market sharply by massively improving the gaming experience," Enderle concluded.
Turbine also announced the first update to "LoTRO." The free update, called "The Shores of Evendim," is scheduled for release in June and will include an entirely new landscape region, over 60 additional quests, nine new monsters and major enhancements to monster play and the music system.