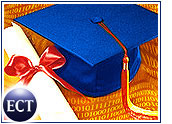 The Princeton Review is aiming to simplify the college admissions process with a free online tool designed to help students find the right college. Simultaneously, for a fee, colleges can search for students who match their needs and specialties.
The New York-based publisher and provider of test preparation services says the service is similar conceptually to an online dating service. Both colleges and prospective students stand to benefit by using the tool, available at PrincetonReview.com. Colleges receive only the names of prospective students that have already indicated an interest, while students only hear from colleges that have decided that they are a good fit.
"The idea evolved from the process actual guidance counselors use," said Richard Strattner, assistant vice president at Princeton Review. But instead of sitting down with each student, the online process uses special algorithms to assess each student's attributes.
Counselor-O-Matic
PrincetonReview.com provides two sets of Web-based tools, one set for prospective students and another set for colleges. For students, the main search tool is called Counselor-O-Matic, which allows students to search for colleges based on a broad range of criteria. It asks the students questions concerning demographics, academic information and interests.
The Counselor-O-Matic then evaluates a student's chance of acceptance based on grade point average, college admission test scores and extracurricular activities, among other criteria. The colleges that match are returned in three categories: "Good Match," "Reach" and "Safety Schools." Once the student receives the list of recommended schools, he or she can opt-in to be recruited by those colleges.
The schools, in turn, use a version of the matchmaking service called Outreach to communicate with the prospective students. Colleges get to set the criteria for the type of students that they are looking for according to academics, program of study or other criteria.
"What sets us apart from other services is that we not only maintain the most comprehensive data about colleges and universities, but that our student assessment piece is qualitative rather than simply quantitative," Strattner said. This process not only provides students with more information; it provides schools with a broader array of prospective students, he explained.
Simple Formula
Millions of prospective students and hundreds of colleges are already using the matchmaking service. Just in the fourth quarter of 2004, Princeton Review added 120 participating colleges, according to Young Shin, executive vice president and general manager of admission services at Princeton Review. Shin told TechNewsWorld that PrincetonReview.com has over 1.2 million unique users per month.
"The technology simply tries to address, and do it better, the age-old matchmaking that many professional college counselors used to do between students and colleges," Shin said. "The wealth of information about colleges available to us, married with students' real-time interests, allows us to leverage technology to create the best possible match."
Shin said that the technology to make this happen has been around for a while. What is new is that colleges are becoming more and more willing to embrace online matchmaking as another way of reaching out to prospective students. "We see a growing importance and use of online marketing, especially for more progressive college admissions and enrollment management officers," Shin said.
Shin acknowledged that there is a vast array of online marketing and advertising options available to colleges and universities, ranging from buying a keyword on search engines to advertising on other college guide Web sites.
"The formula for success is simple," he said. "The colleges prefer working with services that deliver high-quality prospective students, which helps them craft the best possible incoming class. We are increasingly helpful to them in that regard."
Equal Opportunity
Jung Shin, director of sales and marketing at Princeton Review and brother to Young Shin, said he attended a high school where students were informed about multiple college options, but that many students are much less fortunate. His high school had a well stocked counseling office and college admission officers visited frequently, he said.
But, Shin noted, "This situation is the exception rather than the norm at our public schools. We want to give students everywhere the opportunity and means that the few have at elite high schools.
"We are using technology and richer information to increase options. The Internet has allowed us to evolve the concept to an interactive experience that works better for both parties."
Breanne Benedict is one student who has benefited from her use of the Princeton Review's Counselor-O-Matic service. The senior at Henry Grady High School in Atlanta said, "The Web site was very helpful in giving me information about all sorts of scholarships and about that the colleges that were best suited for me."
James Murray, director of admissions and marketing for the College of Agriculture and Technology at the State University of New York at Cobleskill, has also been satisfied with the matchmaking services. He said he started using the service last November and has already received 219 names of prospective students.
"Unlike the traditional buying of names, this service helped drive prospective students to SUNY Cobleskill based on the common factor of interest in our academic programs," Murray said. "What was amazing was the broad geographic range of the prospects."
This is also the first year Sarah Baker, director of admissions at the College of the Atlantic in Bar Harbor, Maine, has used the technology. "We hear from students who are thrilled to discover that a school with our unique approach exists," Baker said. "Once that initial contact is made, we are able to continue the courtship through e-mail, print mailings and phone calls."