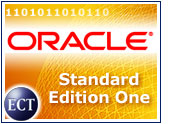 Oracle has released its enterprise database for small businesses, promising the same features of its larger database at an entry-level price and position.
Oracle said Standard Edition One, a single-processor version of Standard Edition Database, will be offered at US$5,995 for unlimited users or at a per-user price of $195 with a minimum of five users.
With its popular database software now available for less than $1,000 in license fees, Oracle said the entry-level database — designed to offer fast installation and simplified management — shows the Redwood Shores, California-based company's commitment to small businesses, company spokesperson Leslie Rubin told TechNewsWorld.
However, Gartner analyst Betsy Burton told TechNewsWorld that while the technology might be there, Oracle's degree of commitment to smaller customers remains to be seen.
"It's good Oracle gets into this area — it makes sense," Burton said. "The question is, are they getting serious about this area? It's not a technical issue — it's more from a sales and commitment perspective. It's just an announcement at this point."
Entry Option
Oracle's Rubin said that although the company already has products for small businesses, Oracle Standard Edition One is a chance for the company to show its commitment in the space.
Referring to the company's reasonable annual support costs for the new database, Rubin said the lower entry option delivers the security and functionality of a known commodity.
"For $1,000, customers can get the same features and functionality you'd get with an Oracle standard database," Rubin said, adding that Standard Edition One both reduces the cost of an Oracle database solution and will allow businesses to adopt an entry-level position and then grow into a larger database system, such as the new 10g.
Hardware Catches Up
Gartner's Burton said she views Oracle's entry-level effort — and similar moves from IBM, with its DB2 Express, and Microsoft, with SQL Server — as the result of more powerful and less expensive hardware platforms.
"One of the things we've seen over the last couple of years is there has been, in effect, a blurring of the line between small databases and the bigger databases out there," Burton said. "It's the traditional, true relational databases moving downstream."
Burton said the evolution of hardware, rather than improvements to small databases, means real databases can run on commodity hardware, making database technology more attractive and affordable for more businesses.
Smaller Space
Burton said Oracle will need to do more to show a true commitment to the entry-level database market. "Right now, we need to see the evidence of real growth and a real long-term dedication to that marketplace," she said. "We'll be looking for that."
Oracle vice president of global practices, global pricing and licensing strategy Jacqueline Woods said in a briefing that the database is a direct response to customer needs, but she downplayed other Oracle moves in small markets.
Woods, who called Oracle's new database the logical alternative to an "unproven and untested" open-source solution, said Standard Edition One is built on the existing 9i database, with a 10g version to be released at a later date. The entry-level database runs on Oracle-supported platforms, such as Windows, Solaris and Linux.