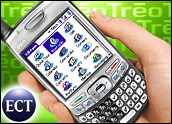 Hoping to gain the same market success with the Palm operating system (OS) as it has with the Microsoft Windows version of its Palm Treo smartphones, Palm (NASDAQ: PALM) has released the Treo 700p, featuring version 5.4.9 of the firm's original operating system in a new device.
The Treo 700p bumps up wireless bandwidth with its EvDO wireless capability, and enters a market that has already welcomed the Windows version, which is available in the Treo 700w.
"They're taking the improvements in the w and making sure Palm OS enjoys the same form factor," Gartner Vice President of Mobile Computing Ken Dulaney told TechNewsWorld.
Palm's Past and Future
Palm did not say how much the 700p would cost, but did tout it as a "showcase" of the Palm OS and the first Palm-powered device to feature EvDO wireless connectivity, which allows faster e-mail, browsing, messaging and more for personal digital assistants (PDAs) and smartphones.
"With our Palm OS based Treo 700p smartphone, our users will have at their fingertips Palm's hallmark phone and e-mail experience in addition to the built-in Palm OS organizer with calendar, contacts, tasks, and memos," said Didier Diaz, Vice President of Product Marketing with PalmSource, the Palm division that makes Palm OS platform software.
The new 700p will initially be functional with wireless service from Sprint and Verizon, which both provide the increased bandwidth and range of EvDO.
Handheld Loyalty
Palm reversed its vigorous competition with Microsoft by building Windows-based handhelds beginning last fall. The move has been successful, though, as the Treo 650 and 700 Windows devices have been popular, Ovum Vice President of Wireless Telecoms Roger Entner told TechNewsWorld.
"The [Windows-based] Treo 650 is probably the most popular and end user friendly of all the PDAs," he said. "Now we see the portfolio being rounded out with a Palm one."
The Palm OS, for good reason, has a large, loyal following, Entner indicated. He predicted the Treo 700p would do very well in the market.
As for the new Palm OS Treo's EvDO wireless capabilities, Entner said the higher range, higher speed wireless technology is becoming a basic requirement for smartphones.
"It would be a terrible disappointment if they would have come out with anything but that," he said.
Multi-Palm Plan
The latest Treo is part of Palm's plan to use multiple operating systems and multiple wireless carriers, Yankee Group analyst Nate Dyer told TechNewsWorld.
"They don't want to bank on one operating system," he said. "They want as many operating systems and as many carriers as they can get."
While he said there was not much difference between the Palm OS and Windows OS Treo 700s, Dyer pointed out that the Palm model can be used as a modem.
"That's one important capability," he said.