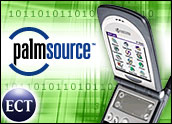 PalmSource is paving a path for its operating system (OS) to suit phonecapabilities in the small but growing smartphone market.
Previously limited to handheld personal digital assistants (PDA), whichhave not grown at nearly the same rate as mobile phones, PalmSource says itslatest Cobalt OS, version 6.1, would have integrated telephony componentsincluding standard GSM and GPRS application programming interfaces (API),and would support expansion cards for cameras, global positioning systems(GPS) and wireless radios.
Joining Symbian and MS
Yankee Group analyst John Jackson said the smartphone enhancements holdthe potential to bring PalmSource into an expanding market that still has roomdespite early inroads by Symbian and Microsoft.
Jackson said the new Cobalt seemed to offer the flexibility needed forsuccess, but he added that PalmSource had not yet announced a deal with a majorhardware manufacturer, and that the Cobalt capabilities can also be had fromPalmSource's competitors.
"This seems to offer this potential [of flexibility]," Jackson said. "Butso does Symbian. [PalmSource] is not alone, and it is arguably late."
Putting Palm To Ear
PalmSource, known for its robust handheld operating systems such asGarnet, said its new Cobalt OS had been optimized for creation ofsmartphones and handheld devices with more wireless capabilities.
"By integrating state-of-the-art wireless functionality into Palm OS, weare providing our Palm OS licensee and developer community a realtime-to-market advantage in delivering smartphones and wireless mobiledevices to consumers," said PalmSource CEO David Nagel in a statement.
The new operating system has been geared up for phone capabilities withsupport for GSM, MUX and GPRS wireless standards and also supports NAND ROMsfor automatic backup and restore features to prevent data loss. Otherfeatures of the new smartphone-focused operating system include: standardBluetooth and WiFi 802.11 wireless support; standard support for softwarecompatibility with other wireless devices; and built-in support forexpansion cards.
Tighter Integration, Brighter Outlook
Jackson said the new Cobalt offered an emphasis on telephony andconnectivity. He added that while smartphones continue to make up a very smallsegment, it is a rapidly growing market that has attracted major investmentfrom Microsoft and others.
"For the non-Microsoft camp, it's a race to traverse the cost curves intoa more market-friendly form factor with a high degree of flexibility andcustomization," Jackson said.
Jackson said Symbian had found success in the smartphone space byallowing manufacturers to take its operating system and build on featuresand functionality without having to upgrade, something PalmSource is tryingto replicate.
Jackson said it was key for PalmSource to get support from hardwaremanufacturers, but added the company's entry could contribute to theprojected surge of the smartphone market, which is forecast to grow bytriple digit percentages in coming years.
Really Smart Phone
IDC analyst Alex Slawsby called the new Cobalt operating system "a goodplatform with the user in mind." Although the industry iswaiting to see devices based on the OS, he added, there is also anunderstanding that a new platform requires time.
Slawsby said while Symbian has been successful with smartphones, its edgeis diminished when its Nokia Series 60 devices, which are arguably enhancedmobile phones, are not included.
"Then it's a lot closer," he said of the smartphone competition.
Slawsby added that the actual use of some Symbian smart phones is limitedto mobile-phone type functions — something competitors, includingPalmSource, may be trying to avoid.
"They're not going to trade off their strengths for telephony just tosell phones," Slawsby said.