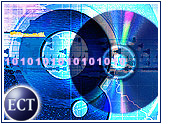 Panasonic has released a DVD recorder based on Blu-Ray, a new laser that can read and store data at much higher densities than first-generation DVD technologies.
According to some analyst estimates, the move should give Panasonic an edge in the battle against a rival technology supported by fellow Japanese electronics makers NEC and Toshiba.
The ability to record high-definition TV programs is becoming increasingly important as countries around the world are set to shift to the new format in wide numbers.
Recordable DVD discs compatible with Panasonic new recorder have a capacity of 25 GB to 50 GB, compared with current 4.7 GB discs. A 50-GB disc can hold 4.5 hours of high-definition digital programming.
Matsushita, the company behind the Panasonic brand name, is a member of a consortium that backs Blu-Ray, which competes with another blue laser-based technology known as HD DVD.
It is the second firm to launch a Blu-Ray DVD recorder after Sony did so last year.
NEC and Toshiba, which back HD-DVD, have no plans to launch blue laser DVD recorders until 2005.
Blue light, with a shorter wavelength than the red laser used in conventional DVD recorders, can read and store data at the higher densities needed for high-definition recordings.