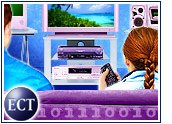 Bill Gates and Microsoft outlined a vision of "seamless computing" at the Consumer Electronic Show in Las Vegas this week, but consumer electronics giant Panasonic has begun to advance a plan founded on the concept of computing without PCs.
Part of the company's vision is to create home networking with a new power-line technology that does not require traditional computers.
Scoffing at the PC crowd's contention that computers will rule the roost in the new digital home, Panasonic president Fumio Ohtsubo announced the Japanese company's "Lifestream" plan to offer consumer-centered products that include an interactive cable technology for TVs, a card-deck-sized camcorder and flat-panel televisions with SecureDigital (SD) memory slots. SD memory cards will figure prominently in the company's Lifestream technology.
Panasonic a Strong Player
IDC vice president Roger Kay said Panasonic — whose parent company Matsushita also announced a new US$1.2 billion microprocessor plant to make chips for networking equipment, digital TVs, SD memory cards and other electronic devices — is working to hold its ground against the onslaught of computer companies, such as Microsoft, Dell, HP and Apple, that are attempting to make their way into the consumer electronics market.
"Panasonic represents one of the strong players in the consumer electronics business, and they're defending the [emergence in] the market of the PC makers," Kay told TechNewsWorld.
"[The company] is just demonstrating it's up to speed and doing the digital thing, too. It's saying it's not going to lose all of its market share to Microsoft or Apple or anything like that."
Connected Still Key
In his keynote to the CES audience in Las Vegas this week, Microsoft chief Bill Gates elaborated on the tech giant's vision for a home network of media-center computers and connected devices.
In his own CES speech, Panasonic's Ohtsubo said the PC companies, many of which are moving further into areas traditionally dominated by consumer electronics companies, might be underestimating the difficulty of delivering electronics to consumers.
However, both visions rely heavily on some sort of connectivity among the various devices that are viewed, used and played around the home.
Gates stressed the importance of software in tying together the different electronic components and devices of the networked environment and making everything work well together. Panasonic's Ohtsubo vowed his company's products will start including the ability to communicate with each other and said the value of the networked home lies in each device's connection to others.
Plug-In Processing
Also at CES, Panasonic demonstrated its new power-line IP networking technology, which is capable of transmitting high-definition video as fast as 190 Mbps over home power lines.
Panasonic said the power-line communications (PLC) technology will allow broadband connectivity in every room in a house through existing home power lines. It uses an adapter the size of an audiocassette tape, which includes a power plug, LAN connector and chipset that can convert data signals for power-line transmission.
The technology — which will be part of the HomePlug Powerline Alliance's HomePlug AV standard for audio, video and data networking — will be available for consumer and office use by the end of the year if the alliance determines the spec this summer, Panasonic said.
The PC's Place
Yankee Group analyst Michael Kelleher said the use of power lines is a "natural progression" and "one of the last lines into the home," but he doubted that the wired domicile would not depend on the PC.
"I think the PC will continue to have a place in the home because it's essentially a functional device and there's functional demand," Kelleher told TechNewsWorld.
Calling the PC essentially a processor and a storage facility that is connected to a screen for viewing, he said he does not see televisions or other devices overtaking the PC model in terms of storage and presentation.
"Even with an adapter that allows data in power lines, you're going to need something to bring that in and store it and play it," he said. "I think people will still need a monitor connected to a processor and storage devices."