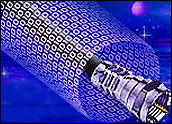 A new study shows the majority of Americans still on dial-up Internet access are keeping the slow connection by choice. The Pew Internet and American Life Project's "Home Broadband Adoption 2008" report finds only 55 percent of Americans are now using high-speed broadband connections — up 8 percent from this time last year. Those with dial-up connections — about 10 percent of the total polled — largely say they're content and have no desire to upgrade.
A whopping 62 percent of dial-up users reported no interest in switching over to broadband. About a third cited price as the deciding factor, but 19 percent indicated they wouldn't make the change regardless of rates or anything else.
"They probably just occasionally check e-mail. The Internet and information technology just don't play a very big role in their lives and they don't see a real reason to switch and pay a little extra for broadband," John B. Horrigan, the study's author, told TechNewsWorld.
No Need for Speed
The study certainly supports that idea: Only 19 percent of dial-up users said their electronics help them be more productive, compared to 35 percent of broadband users. The concept may not be limited to computers, either. A decent number of Americans — 7 to 8 percent — also still don't have phones, Horrigan pointed out.
"For some of them, it's for economic reasons. For some of them, it's because they're just kind of technologically cranky, for lack of a better term, and don't really feel the need to have these kinds of communications devices. There's always going be some percentage of people like that," he said.
Just over a quarter of Americans are not even getting online at all — and the vast majority of these people also say they're simply not interested, find it too difficult or expensive, or just see it as a waste of time. Most of these users are older — a median age of 61 — and many are also lower-income families. In fact, the Pew study indicates non-Internet users are more than twice as likely to live in low-income homes, compared to those who are net-savvy.
Interestingly though, broadband bills are actually decreasing slightly in cost — down about 4 percent over the past three years — while dial-up bills have gone up 9 percent in that same timeframe.
Connection Change
On the whole, the research reveals little year-to-year growth in broadband adoption among families making US$20,000 a year or less. African American families also had flat year-to-year growth from 2007 to 2008. Americans over the age of 50, however, had a 26 percent growth rate in broadband access from last year — and lower-middle income families saw a similar boost. The Pew Internet Project has found the more people tend to use the Internet, the more likely they tend to be to make the upgrade.
"People in general, as they spend more time online, start to do more things online — and thus begin to want faster speeds. For that reason, there is a slow migration to broadband, even for the most diehard dial-up users," Horrigan explained.
Fast Focus
While many providers do still offer dial-up options, other now focus solely on the high-speed market and cater to that growing demand.
"People [are] looking for high-speed to help communicate, help do business, take care of households, bills — all those sorts of things. It's a necessity to the people we're talking to," Andrea Katsenes, spokesperson for Cox Communications, told TechNewsWorld.
Companies like Cox have developed "lower-end" alternatives to the high-speed spectrum to help dial-up users make the jump.
"It's for those that are really just checking e-mail and not doing a lot of file downloading, but maybe need a transition from dial-up to high speed," Katsenes said.
If this week's study is any indication, that kind of service just may be the trick to convincing some of the price-wary dial-up users to finally make the conversion.
"There's certainly an educational process that may be useful to some dial-up users about the possible benefits of having an always-on Internet connection," Horrigan commented. "There's a chance with better pricing packages perhaps to get some of [them]."