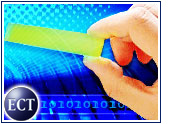 With the discovery of a new property in commonly used plastics, researchers from Princeton University and Hewlett-Packard said they have invented a combination of materials that could lower the cost and boost the density of electronic memory.
The research, detailed in this month's issue of Nature, involves a previously unrecognized property in a widely used polymer plastic coating. Combined with thin-film silicon transistors, the polymer can store data like a CD but would serve as a conventional electronic memory chip, plugging right into an electronic circuit with no moving parts.
"We're hybridizing," said Princeton electrical engineering professor and research group leader Stephen Forrest. "We are making a device that is organic in the plastic polymer and inorganic in the thin-film silicon at the same time."
Researchers believe the invention could be the basis for a grid of memory circuits so small that a megabit, or 1 million bits of information, could fit on a square millimeter of paper-thin material.
When put together in a block, the plastic device could store more than one gigabyte of information, the equivalent of 1,000 high-quality images, in one cubic centimeter about the size of a fingertip.
Plastic Pluses
The discovery, achieved by HP and Princeton researchers in Forrest's university laboratory, came during work with a polymer material called Pedot — a clear, conductive plastic used as coating on photographic film and as electrical contact on video displays.
Princeton postdoctoral researcher Steven Moller, who is now with HP, found that Pedot conducts electricity at low voltages but permanently loses its conductivity when exposed to higher electrical currents, making it act like a circuit breaker.
In using Pedot as a storage medium, a device would use a grid of circuits in which all of the connections contain a Pedot fuse. With the introduction of high voltages, the fuses would blow and represent the zeros while unblown fuses would represent the ones that make up computerized data and digital images.
Princeton representative Steven Shultz told TechNewsWorld that researchers believe the technology will decrease the size, increase reliability and speed up reading and writing of memory chips.
Other Issues
Aberdeen Group chief research officer Peter Kastner said the plastic memory is related to other thin-film polymer memory approaches from the likes of Intel and Advanced Micro Devices.
However, Kastner said cost and density advantages still do not address larger issues for electronic memory — heat and leakage — that will be tackled in new DDR2 memory due out next year.
"The biggest problem with today's high-density transistor memory is heat dissipation," he said. "If a polymer or plastic can't solve the electronic density issue and leakage, it will be difficult for it to be adopted."
While he conceded that it might indeed become an important discovery in the next decade, Kastner stressed that any new invention will be slow to be adopted because of the billions of dollars already invested in existing manufacturing and install base.
One Time, Short Time
However, Princeton's Forrest said the new memory — limited to one-time use — could be ready for market within as little as five years, given additional work on creating a large-scale manufacturing process and ensuring compatibility with existing hardware.
In response to the plastic memory discovery, many predicted it could mean the end of today's CDs and DVDs as mainstream storage media.
Kastner, however, pointed out that the next generation of DVD-writing technology will use much less metal while still being able to support dual layers, which bodes well for the longevity of the technology.