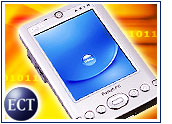 What happens when you cross controversial peer-to-peer (P2P) file-sharing technology with regulation-debated Voice over Internet Protocol (VoIP) telephone capability? Meet the new, free PocketSkype software, which enables VoIP-based calls on the Skype network using a WiFi-enabled PocketPC handheld device.
Skype, which has its desktop VoIP software deployed to nearly 10 million users who save on long-distance and other charges using the Internet telephone alternative, announced PocketSkype — a "thin" version of the PC software — specifically for PDAs.
While it may appeal to existing Skype users with Microsoft PocketPC-based handhelds, the mobile VoIP technology that relies on wireless access through "hotspots" — or wireless local area networks (WLANs) — likely will remain a niche application for some time to come, analysts said.
"We'll see more of it, but it's still going to be niche," Gartner research vice president Phil Redman told TechNewsWorld. "The public networks are still pretty far away from supporting voice."
Expanding Free Calls
Based in Luxembourg, Skype is a global P2P telephony company that was founded by the developers of the popular Kazaa P2P file-sharing application. Since its launch last August, the company claims its free voice calling software has been downloaded more than 9.5 million times.
Skype is banking on growth of public WiFi hotspots, which, according to Gartner, are expected to number 167,000 worldwide by 2008.
"Expanding Skype to new platforms and giving our users more choice and flexibility is our priority," said Skype CEO and co-founder Niklas Zennstrom.
"We aim for ubiquity in offering value to all Skype consumers," said Zennstrom. "The powerful combination of WiFi and free telephony using PocketSkype enables individuals to realize huge cost savings while mobile."
Holding the Phone
Analysts, however, indicated there are several barriers to widespread adoption of the mobile VoIP technology, particularly in terms of the infrastructure required for quality voice communication and deployment of capable devices.
Gartner's Redman said that, for now, the technology is largely limited to private networks, which might protect Skype from regulatory issues but also might limit its reach.
"There's not a lot of devices that can do this," Redman said, referring to quality of service from WiFi networks and the capability of devices as limiting factors in a mobile VoIP play. "You can't just take a WLAN and integrate it. You have to increase capabilities and increase coverage so voice gets priority."
More To Come, More To Do
Yankee Group analyst Phil Marshall told TechNewsWorld that there is great interest by wireless carriers and others in using VoIP for the mobile setting. However, the analyst referred to network robustness, user base and availability of devices as three keys that must align to make it work.
"The question, and I think the concern, of many is whether WLAN technology is sufficient, mature and deployed sufficiently to support voice-type services," Marshall said.
He added that the impact of such services will be limited, as the business case for mobile VoIP technology has yet to be made and proven.
"I think we will see more, but there's a timing issue," Marshall said. "All of these players looking at this type of technology need to time it right."
Regulation in the Air
Even as Skype launches its new software, available for free download from the company's Web site, the Federal Communications Commission is considering how to treat VoIP in terms of regulation.
At issue is whether VoIP should be categorized as an information service, which seems likely, or as traditional telephone carrier technologies have been categorized, which would mean payment of local-access fees for use of telephone networks.
Gartner analyst Ron Cowles, who predicted the FCC will impose a different local-access fee scale for VoIP providers such as Skype, told TechNewsWorld that the issues are being further complicated by ongoing court battles and potential legislation.
However, Cowles indicated that Skype's mobile effort illustrates the potential of VoIP technology, which is coming together, particularly in the United States.
"This is right at the infancy," he said. "It just justifies that this convergence industry could have a real potential of taking off when the parts are in place."