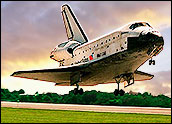 Rocket and space shuttle contractors are orbiting U.S. space agency NASA, searching for the future of space flight through contracts that would privatize key missions.
After the Space Shuttle Program completes its final flight this year, United Space Alliance (USA) — the Boeing-Lockheed-Martin joint venture presently charged with shuttle operations — hopes to keep the old birds flying commercially.
USA would retain all three existing shuttles: Discovery, Atlantis and Endeavour. For-hire flights would head into orbit twice a year, starting in 2013. The missions would carry cargo and space tourists, according to a USA proposal company representatives call a "long shot" that seeks 200 million NASA dollars.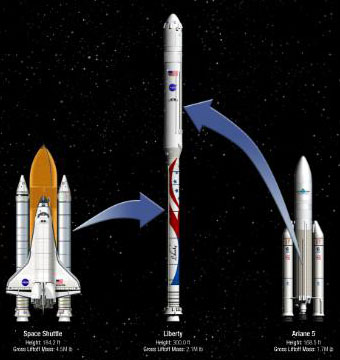 The Liberty launch vehicle combines the proven systems from the Space Shuttle and Ariane 5. (PRNewsFoto/ATK)
A different joint venture seeks to transform the overpriced Ares I rocket that Congress canceled into the Liberty, a commercially viable marriage of the European Ariane 5 rocket with a longer version of the space shuttle booster rocket manufactured by Alliant Techsystems (ATK).
"The main purpose of the Liberty is to launch people safely and cost-effectively into space," said ATK Liberty Launch System program manager Kent Rominger. "But whereas the space shuttle weighs around 250,000 lbs. and isn't designed to move beyond a low-Earth orbit, the Liberty rocket can transport payloads of roughly 30,000 to 44,000 lbs. well beyond low-Earth orbit."
Liberty would also fly over twice as often as the shuttle, four to six times per year.
Lady Liberty
A marriage of know-how between ATK and Astrium, the Liberty rocket would transport people and cargo for "a lot less than Ares I," Rominger told TechNewsWorld. "We're offering the nation a great value: the safest vehicle at the lowest cost."
In space, cost and safety are inseparable, and part of the secret to keeping costs down is also the key to in-flight safety. "Though it's a very big deal to outfit a space vehicle for human travel, the best designs are as simple as possible," Rominger said. Complicated parts generally mean higher costs but also cause "most of the safety problems these vehicles encounter."
Though ATK and Astrium are also seeking part of NASA's US$200 million commercial flight cash stash, their Liberty project isn't in direct competition with USA's shuttle redux. Unlike the shuttle, "Liberty would carry a much smaller space capsule or space plane," Rominger explained.
Saving the shuttle also faces more challenging difficulties. "The shuttle is an expensive beast, and it's not the safest vehicle around," said Rominger, who worked for NASA when the shuttle Columbia exploded in 1986. "The chances of having a bad day aboard a shuttle are about one in 100, versus one in 1,000 on a rocket like the Liberty."
Space Cents
At a proposed cost of less than $1.5 billion, the USA Commercial Shuttle Transportation Service would more than halve NASA's 2010 shuttle budget of $3.1 billion. Numbers like those are commercial space flight's driving force, said University of West Georgia emeritus physics professor Ben de Mayo, Ph.D., a member of the NASA-Georgia Space Grant Consortium. "It's all economic. They've calculated all the numbers and determined that commercial flight makes sense and allows us to continue to explore and make use of space," de Mayo told TechNewsWorld.
Nonetheless, "this development definitely is a long shot," he added. Tight NASA budgets, other priorities such as deep space exploration, and nagging safety concerns have kept pressure on to retire the shuttle permanently.
USA sees the issue in a more idealistic light, with a mission statement that begins, "More than 46 years since humans first ventured into space, people around the world continue to be directly impacted by the thousands of benefits stemming from exploration."
Space exploration encourages discoveries, enables innovations, and produces technology that affects the everyday lives of people around the world, the statement concludes.
UWG's de Mayo is also generally optimistic. "We wouldn't be people if we stopped exploring space — we have a strong exploration driver within us," he said. "Regardless of economic limitations, we still need to be curious and explore our surroundings in the universe."