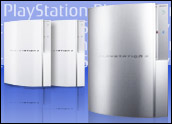 Not content to win the hearts and minds of gamers, Sony is apparently aiming to take over living rooms around the world by adding digital TV tuner functionality to its currently underperforming PlayStation 3 (PS3) game console.
The revelation came in an interview with Warwick Light, sales and marketing manager for Sony Computer Entertainment New Zealand, published in The Press newspaper.
Tied to Freeview Launch
The company is "hoping" to release a digital tuner for the PS3, he told the paper, and turn the device into a "programmable TV recorder" about the same time British digital broadcaster Freeview launches its terrestrial service, which is expected in March 2008.
The disclosure appears to be yet another instance of a Sony executive with loose lips; Sony denies any current plans. Both Sony Computer Entertainment America (SCEA) and the European division have either denied plans for the addition of a digital video recorder (DVR) or refused to comment.
"We have no announcement regarding DVR functionality for PS3 in North America at this time," Dave Karraker, SCEA spokesperson, told TechNewsWorld.
A Future-Proof Device
In the interview, Light said that Sony "future-proofed" the PS3, which he expects to be on the market for the next 7 to 10 years before the PS4 hits store shelves. Functionality that enables the machine to "update its processing capabilities through firmware updates" makes the PS3 ideal for home entertainment, he explained.
One example is the PS3's Digital Living Networked Alliance (DLNA), a format for sharing between compatible networked devices. The technology enables users to connect their laptop wirelessly to the PS3 to stream movies, music and pictures to a television set.
When they think of the PS3, Light stated, most people think it is just for playing video games. That is just part of what the console does because it is a "future-proofed supercomputer," he continued.
Sony can transform the console's capabilities to suit the ever-changing entertainment needs of the market, Light said.
Anything Is Possible
The PS3 seems to already have all of the components required — CPU (central processing unit), read-write drive, connections to the TV — to support the added functionality, Michael Pachter, a Wedbush Morgan analyst, told TechNewsWorld, though he said he's not sure exactly what hardware is required to make the PS3 a DVR.
The 80 GB hard drive will hold a lot, unless it is an HD-DVR, he added, and if Sony provided the new feature via a free software patch, it would make the PS3 more valuable. However, if it depends on the addition of new hardware, any incremental increase in value will likely be reflected by an incremental increase in the price.
With few details out there, making any pronouncements is difficult, but Pachter doubts it will boost the PS3 out of its slump.
"Bottom line, I don't think it makes that much difference," he said.