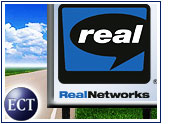 Taking a stab at simplicity in the incompatible world of online music and portable players, RealNetworks has released a major update to its flagship media software, now called RealPlayer 10. The release is the company's first new player in two years that is capable of playing media in the formats sold in the online music stores of competitors, including Microsoft and Apple.
While a recent study from Nielsen//NetRatings indicated media player applications are becoming as popular on the Internet as the Web browser, players used for music, video and other streaming have long been incompatible with one another. The various online music stores, such as Apple's iTunes and Roxio's Napster, use different formats and are not always compatible with the array of hardware devices used to play digital music.
GartnerG2 analyst Mike McGuire told TechNewsWorld that RealNetworks takes a step in the right direction with its newest media player software. It supports major media formats, will play music from the major online music stores and will support more than 50 portable devices, including the iPod and the Handspring Treo 600.
"In terms of the player, it does give them an advantage," McGuire said of the interoperability. "That may be short-lived, though. These services and this industry are young and evolving and changing very rapidly. Microsoft and Apple are not going to stand by and say 'they've really got something,' but in this type of market, that type of innovation is something to be reckoned with."
Redefining the Media Player
Considered by many to be the pioneer of the media player, RealNetworks said its RealPlayer 10 redefines the category for several reasons, particularly for its ability to play Real, Windows Media, QuickTime, MPEG-4 and MP3 formats.
"For the first time ever, RealPlayer 10 makes it possible for consumers to use a single media player to play music on their PC purchased from all of the major online music stores," the company said in a statement.
McGuire praised the new media player's "clean, simplified" user interface that allows content consumers to find, play and manage digital content.
"Playing on the PC is crucial because consumers couldn't care less about format. It's just, 'I want this piece of media and I want it now,'" he pointed out.
"To have the ability to view content on the Web is critical," McGuire added, referring to a list of media links produced by RealPlayer 10 that did not include the typical variation of media player icons. "That's going to give them a good piece of differentiation."
Halfway to Hardware
RealNetworks spokesperson Matt Graves told TechNewsWorld that RealPlayer 10, which has a built-in Web browser, is an attempt to capitalize on heavier use of media players by simplifying them.
"We have tried to bring some simplicity to the complexity of the online music world," Graves said. "Every change we've made is the result of hearing what our customers were telling us."
Available for download for free, RealPlayer 10 will not bypass digital rights management software, but it is compatible with several players and is accompanied by an integrated music store with prices comparable to other stores at US$1 per song and $10 per album.
McGuire said the company's moves toward interoperability on the PC are likely to give its player a boost, but added that its interoperability among hardware devices remains to be seen.
"The PC and the player are the interfaces for access — will consumers start demanding the same interoperability on hardware devices?" he said. "It will be interesting to see how the media player wars and the hardware shake out."
Open Trend
RealNetworks' Graves would not make a prediction as to whether Microsoft or Apple would follow suit by making their own media players more compatible with other formats, but he did indicate his company is responding to the tech industry's move toward embracing more open standards.
"I'd love to say we'll spur our competitors to do the same thing, but, regardless of that, the trend in the overall industry is toward open standards," Graves said. "If not a trend toward complete openness, it's a trend toward more openness. For now, we're happy to be out there and [be] the only player that allows people to do this."
McGuire said the ability to add compelling content or control features will be just as important as interoperability, which will remain a problem for users to some degree.
"I think it's clear players that can deliver performance and that capability of 'I want something and I play it' will make [interoperability] a competitive issue, but you have to be careful to protect the brand integrity of your product," he said. "Interoperability will continue to be an issue."