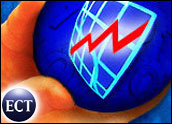 Portability and price have combined to fuel consumer thirst for personal computers, according to IDC findings on worldwide PC shipments — a trend the company says will be matched by more corporate spending through 2004.
Updating its Worldwide Quarterly PC Tracker, IDC forecast "record levels" for 2003 and 2004, with the total number of PC shipments in 2003 hitting 152 million units valued at US$175 billion. For 2004, IDC said shipment growth should climb 11 percent, up from prior expectations of about 10 percent, and the shipment value will grow by 4 percent.
"The updated projections represent shipment growth of 8.8 percent over 2000, the previous highest year for PC shipments, with a 22 percent decline in total value due to aggressive pricing and a shift toward lower-end configurations as overall computing power increases," the report said.
IDC said that while low prices and increased performance will continue to drive consumer spending, corporate IT purchases are finally expected to start catching up.
"The general theme is essentially that the consumer market and strong notebook demand is really driving the market," IDC research director Alan Promisel told TechNewsWorld. "Also, we're seeing the beginning of a coming rebound in commercial spending."
Notebooks, Notebooks, Notebooks
IDC credited an improving economy, aggressive pricing by manufacturers battling for market share and rapid technology adoption for the continued explosion of notebook shipments.
"Within the great numbers we're seeing a dramatic shift from desktop to notebook buying," said IDC vice president Roger Kay. "We expect this tend to continue for several more years, although the rate of change may be near its maximum right now."
Promisel added that when commercial PC spending "resumes en masse," the corporate ratio of desktop to notebook shipments will balance out the overall ratio, which is expected to be split evenly between desktop and notebook in 2007.
Down to Business
Projections for consumer PC spending remain strong, but analysts agreed the more important factor for the technology industry is corporate spending, which has been stalled for nearly two years.
"Consumers remain the primary market driver, and while business purchases have yet to accelerate substantially, overall growth shows the market in mid-recovery," said Loren Loverde, director of IDC's Worldwide Quarterly PC Tracker. "We expect greater business participation and continued double-digit growth during 2004."
Promisel said consumer PC spending will be outpaced by corporate PC spending — although not in terms of shipments — when commercial purchases hit high single-digit or low double-digit growth.
Western Leadership
Kay said that although worldwide growth of PC shipments is being driven by the United States and Europe, which experienced "unprecedented strength" in the last quarter, Japan and the Asia-Pacific region are also improving markets.
"Japan picked up finally after quite a while," Kay told TechNewsWorld. "That was interesting."
IDC reports that despite the already high penetration of portables in Japan, the market overall is expected to grow by double digits in 2004.
Kay said that although expectations were higher for the Asia-Pacific region, the area is doing well overall in terms of PC shipments. The region is expected to continue to grow at double-digit rates through 2004.
Conservative and Calculating
IDC said strong third-quarter results and projected growth of 15.3 percent in the fourth quarter are expected to boost annual growth of worldwide PC shipments to 11.4 percent, three points higher than the previously projected 8.4 percent.
Other industry reports have indicated a likely return to "traditional," healthier IT and PC spending. Promisel said the industry probably will experience a "conservative and calculating upgrade cycle."
But given that shipments are expected to grow and market value remains relatively flat, end users can expect to see continued low price points, Promisel said.