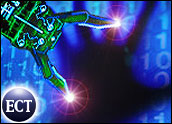 Microsoft made a major move into robotics this week as the software giant previewed its Windows-based Robotics Studio robot software development platform.
Along with a list of robotics partners including Lego, White Box Robotics, and universities around the globe, Microsoft said its robotics development tools would address fragmentation of different robot platforms and systems, and would galvanize the robotics industry the way its software ushered in the PC era.
The news was welcomed by the robotics industry, which saw Sony drop out of the field at the beginning of the year. However, Redmond's robotics moves may also be another battlefront in the fight against Linux and open source software, which are thriving in robotics development and deployment.
"There's a lot happening," said Dale Musser, a robotics industry watcher and owner of Eyebits Studios. "Microsoft is protecting its territory by ensuring hardware will run on both," he told TechNewsWorld, indicating that most robotics vendors support both Linux and Windows CE embedded operating systems.
Windows Robot World
Microsoft unveiled its new robotics platform and development software — aimed at academia, hobbyists and commercial developers — at the RoboBusiness Conference and Expo 2006 in Pittsburgh taking place this week.
With processor improvements and sensor cost drops, robotics software development is exploding, the company said, gaining use in everything from robotic vacuum cleaners and lawn mowers to unmanned vehicles for law enforcement or search and rescue work.
"Microsoft sees great potential in robotics, and we are excited to deliver our first community technology preview of Robotics Studio, making it easier to create robotics applications across a wide variety of hardware, users and scenarios," said Microsoft Robotics General Manager Tandy Trower.
Market Validation
Those already in the robotics industry — including Musser, a former University of Missouri professor — welcomed Microsoft's move into robotics, noting that the giant's presence is both a validation and sign of support of the evolving robot market.
"As with any party, the more the merrier," Musser said. "We're happy to have anybody come to the game and promote robotics and robotic development. We're evolving towards a future where robotics is going to be an ever-present thing. We're not there yet, but anybody promoting it will help."
The entry of Microsoft into the robotics market confirms what many in the industry, like Frontline Robotics President and CEO Richard Lepack, have long been betting on.
"It's nice to see validation from companies like Microsoft that are coming to the marketplace," he told TechNewsWorld.
Real-Time Importance
While Microsoft contended its new Robotics Studio platform would help address the robotics industry fragmentation of platforms, systems and software, Musser said any platform is more likely to add to fragmentation.
He called Microsoft's entry into robotics a good thing for the industry, and also commented on the fact that most robotics innovation comes out of Asia, and it is good to see a major U.S. company involved. Musser also noted there is a huge variety of open source software for robotics.
Most PC-type robotics technologies support different operating systems, but Musser said the most important feature in any robot OS is real-time capability, which can allow a robot to give priority to an event rather than cuing a later reaction to it.
Cannot Be Ignored
Frontline Robotics and its subsidiary White Box Robotics make PC brains for robots running on various operating systems including Linux, Windows CE and Mac OS X. The open source software support of robotics is important and will continue, Lepack said, but Microsoft's presence in the space is also significant.
"Certainly, what Microsoft does cannot be ignored," he acknowledged. "We want to be in tune with what Microsoft does."
Lepack stressed his company's vision for the PC architecture: In the future, it will not sit in a box below the desk; rather, it may be able to monitor the home, accept delivery of a package, or use the air conditioning efficiently when home or business owners are away.
"One thing people are not aware of is how much this industry has moved forward in the last four or five years," Lepack said. "As they become more prevalent, people will see what these robots can do."