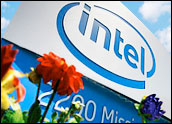 Intel is reportedly preparing a new consumer ultra low voltage (CULV) platform aimed at small, highly portable notebook computers.
The new push will focus on ultra-mobile PCs (UMPCs) priced between US$700 to $900, according to Digitimes. Consumers should look for the new platforms in hardware beginning in the second quarter of 2009.
Intel would not confirm or deny the information in the report.
"We have not made an announcement concerning plans for consumer ULV. We have seen a lot of rumor and speculation in several reports; however, it is our policy not to comment on speculation or rumor," Connie Brown, an Intel spokesperson, told TechNewsWorld.
Processing Rumor Mill
Despite the lack of any immediate and specific word from Intel regarding its CULV plans, the company has spoken about turning out a CULV platform for some time, Jon Peddie, president of Jon Peddie Research, told TechNewsWorld.
"It's a nifty segment in the mobile market and provides price points and features — like screen size — for several categories. The OEMs love it," he said.
While no specifications or details are available for the upcoming platform, Peddie confirmed that HP will be one of the first manufacturers to feature it in its notebook computers.
"Where HP goes the others will follow," Peddie pointed out.
Dividing the Market
The new CULV platform is reportedly part of Intel's 2009 master plan to divide the market into four categories: traditional notebooks 12.1 inches and above; netbooks running Atom processors or technology based on Pineview; mobile Internet devices (MIDs) sporting the Menlow chip; and 11-inch to 13.3-inch ultra-portable notebooks.
Any upcoming CULV platform from Intel would pit the company against its arch-rival AMD, with its Yukon platform.
Announced two weeks ago at the Consumer Electronics Show (CES), the Yukon platform is designed for ultrathin notebooks and will enable hardware makers to design very light machines with entertainment features and functionality normally associated with larger systems, according to AMD.
Based on the new AMD Athlon Neo processor with ATI Radeon X1250 integrated graphics and an optional ATI Mobility Radeon HD 3410 discrete graphics card, the platform is scheduled to make its debut in the HP Pavillion dv2 Entertainment Notebook PC ultra thin, a less-than-1-inch-thick notebook. The machine includes a 12.1-inch diagonal LED BrightView display, a nearly full-size keyboard and an optional external optical disc drive with Blu-ray capability.
"This is a bit of a reaction to [the Yukon]. Intel's entry into any market segment is not good news for its competitors," Peddie noted.