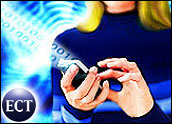 Amid an apparent struggling market over the last two and a half years, personal digital assistants (PDAs) are growing in popularity and moving the handheld segment market positively toward a record year in 2005, research firm Gartner said this week.
In its recent report on PDAs — defined to include Research in Motion's BlackBerry, but not smartphones such as the BlackBerry 7100 and Treo 659 — Gartner said PDA shipments grew 32 percent in the second quarter of 2005 over the same period last year.
Gartner predicted the market would reach a record 15 million units shipped by the end of the year, surpassing the previous best year for the market, which shipped 13.2 million units in 2001.
Gartner principal analyst Todd Kort attributed the growing market to the fact that PDAs are viewed "as an adjunct or alternative to notebook computers," as well as favorable exchange rates that fueled European market growth.
"These factors have aided in the recovery of the slumping PDA market of 2002-2004," Kort said in the report.
BlackBerry Grows, Others Slow
Gartner reported that much of the growth was driven by RIM's BlackBerry devices, which allow users mobile access to e-mail and grew 64.7 percent in the second quarter of '05, making RIM the top PDA vendor worldwide.
Others, including Dell and HP, however, continued to suffer market share losses. Dell was pushed out of the top five PDA vendors by strong growth of the T-Mobile Sidekick II and Pocket PC Phone Edition devices, Gartner said. Still, product refreshes from Dell and HP are expected in 2005 and may contribute even more to the projected PDA market growth.
As for Western Europe, Gartner reported the region's PDA market jumped 94 percent to 1.3 million units in the second quarter of this year, accounting for 37 percent of worldwide shipments. In the U.S. the market remained stagnant, largely because of the continuing decline of Palm OS PDA shipments and aging product lines among Microsoft licensees, Gartner added.
Connectivity is King
Yankee Group analyst John Jackson told TechNewsWorld the success of the BlackBerry and similar devices that connect users to the Internet are popular among users, while devices without e-mail or voice connectivity are growing less and less desirable.
"What this shows is RIM rising and the likes of the Pocket PC crowd continuing to muddle along," Jackson said. "What this says to me, and what we're seeing as well, is connectivity is king."
Jackson said the value proposition of the PDA now lies in connectivity, rather than the personal information management and PC sync capabilities of yesterday's PDA.
"End users are gravitating to value added services that offer this connectivity associated with the device out of the box," Jackson said. "It shows certain mainstream applications, like e-mail, are must-haves for the device to be in growth mode."