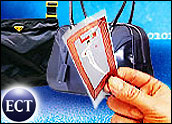 Privacy concerns over Radio Frequency Identification (RFID) technology are the basis of both proposed legislation in the United States and protest in Europe. The protests have been linked to German retailer Metro Group's plan to use the tracking technology for items in its supermarket stores.
However, despite reports of RFID tags turning up in U.S. merchandise — such as designer-brand clothing — privacy and industry experts agree there are still barriers to companies using RFID even for inventory purposes. Tracking consumer goods and individuals is still more than five years away at least, AMR Research senior analyst Kara Romanow told TechNewsWorld.
Still, there is real fear that an infrastructure built for inventory purposes could lay the groundwork for a personal or product-based RFID system that keeps track of things such as eating habits, which might be linked not only to advertising, but also to healthcare and insurance, according to Electronic Privacy Information Center associate director Chris Hoofnagle.
"The risk is having the infrastructure built in one area and it creeping into another," he told TechNewsWorld.
Fearing the Future Store?
Wal-Mart has pressed the RFID issue most in the United States, with requirements for suppliers to begin tracking inventory more effectively. Metro One has been among the leading retailers testing RFID in its stores in Europe, but the German company recently halted use of the digital tags in food and other consumer products.
Some reports indicate the move is the result of protests by local privacy groups. But AMR's Romanow said she doubts the issue will prevent Metro One from moving forward on RFID implementation, which also includes developing a futuristic store that is a prototype for RFID tag use.
"It's because this is new that they just need to communicate this is how you turn it off," Romanow said of RFID "kill switches" that have proven to be successful in an early version of the Future Store. "I don't think it will stall them or delay them at all."
Omnipresent Oversight
In the United States, the first proposed legislation over RFID has been advanced by California state Sen. Debra Bowden (D-Redondo Beach). The law would require agencies, companies and other organizations to inform consumers that the companies are using an RFID system capable of collecting and tracking information about them; obtain consent before using the system; and detach or destroy RFID tags attached to products when they leave the store.
"It really comes down to three rights," Bowden said in a statement. "First, you have a right to know when and where RFID technology is being used. Second, anyone using RFID should get your consent before they collect information about you.
"Third, the 'default' should be that RFID tags on products get removed or destroyed when you walk out the door, which takes care of many of the privacy concerns — not the least of which is the fear that as you walk through the mall, everything you're wearing and carrying could one day be identified as you walk by RFID readers."
Notice Your Rights
Indeed, EPIC's Hoofnagle cited notification of RFID or other technical tracking technology use to those carrying the small chips in their food, clothing or other merchandise as a paramount privacy right.
Hoofnagle said the cost to implement radio frequency ID is as much of a hindrance as the privacy implications, but he indicated that RFID for inventory tracking shouldn't generate concern. It is the line between inventory tracking and individual tracking that could become blurred and end up generating greater concern about consumer privacy.
Hoofnagle referred to a recent privacy conference at which he encountered a woman who had purchased designer-brand pants that had an RFID tag placed into them without the woman's knowledge.
Turning On the Hype
Romanow, who said hype surrounding RFID is on the rise, disagreed with Big Brother scenarios put forth by some privacy advocates, arguing that industry and society are "a very, very long way from companies being able to track us."
"[Companies] are having difficulty managing the tags in case and inventory," Romanow said. "We're just so far away from [individual product or consumer tracking]."
Romanow did say that clothing likely will be the basis for generating the biggest RFID privacy concerns, but added that concerns can be alleviated through technology and policy there, too. "Those issues should be resolved," she said. "Those chips can't be read by anybody, and as long as I as the consumer have an opportunity to take that off, it's okay."
The analyst also likened loyalty card or automatic credit card payments used today to RFID, adding, "It's not that different, it just keeps me from having to have receipts."