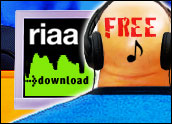 The Recording Industry Association of America (RIAA) this week continued its legal campaign against online file-traders who use peer-to-peer (P2P) song-swapping networks. In the latest move to stem the flow of pirated music, the RIAA has taken legal action against another 482 individuals across the country.
The RIAA, which now has taken legal action against more than 3,400 people since suits began last September, has settled with approximately 600 of those individuals, who are not being named in the latest round of so-called "John Doe" cases, where the identity of the alleged infringer is not disclosed until there is a hearing.
Prior to the RIAA suits this year, the recording industry group was securing subpoenas on alleged file-traders and serving them to ISPs who would then match infringing Internet addresses to individuals.
There is agreement among experts that the campaign has been effective in discouraging free P2P use, but analysts also say there has been a negative effect on enthusiastic music listeners who simply want to explore and search out new and different music.
Cases Continue
When the lawsuits began last fall, RIAA officials said the most egregious offenders were the first to be sued for copyright infringement.
RIAA spokesperson Jonathan Lamy told TechNewsWorld that while some have many more and others have fewer, the average number of songs made available by those being sued is approximately 800.
"We continue to target the substantial offenders — those who are sharing or distributing hundreds and hundreds of songs on a P2P network," Lamy said.
The RIAA said its latest round of legal action involved 213 individuals in St. Louis, 55 in Denver, 206 in Washington D.C. and eight in New Jersey.
Getting Less Scary
Although the lawsuits have continued consistently with new alleged copyright infringers every month or two, the initial fear of RIAA legal retribution has subsided somewhat, according to Pew Internet and American Life Project research specialist Mary Madden.
"What we've seen is there was an initial reaction and people are realizing there are other ways they can skirt around this tracking," Madden told TechNewsWorld.
Analysts also have been drawing attention to non-P2P sources of song swapping that increasingly includes e-mail and instant messaging, as well as newsgroups and other community sites.
Chilling Effect
Madden said the RIAA lawsuits have no doubt had an effect on P2P use, but the extent to which people are returning or using other means to trade music online is unknown.
Madden also said there are other factors, primarily fear of viruses, that have turned people away from the free file-sharing services.
However, along with discouraging people from accessing P2P, the RIAA campaign might also be discouraging use of legitimate services — such as Napster 2.0 or iTunes — by those new to online music, according to Madden.
"The chilling effect of the lawsuits is being felt not only by current downloaders, but also by people who are not yet downloaders," Madden said. "There's the potential of people being scared from using the legitimate services."