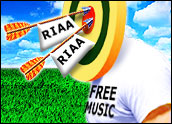 The Recording Industry Association of America is succeeding at pushing Internet users away from illegal music downloads, but those in search of free file trading are also moving to lower-profile applications and other platforms, such as e-mail and instant messaging, according to the latest research.
The Pew Internet and American Life project reported that the recording industry campaign against downloaders and online music traders has made an impact on several fronts, according to phone surveys done by the research firm. Sixty percent of those polled who had never downloaded a music file said they would not do so because of concern over the RIAA's lawsuits against individuals.
The RIAA strategy might keep those users from any online music offerings, the research suggested, including the array of legitimate services that have become available in the last year. However, the Pew research showed that the number of North Americans downloading music and sharing files online has actually increased, with many heading to legitimate sites and services while others turn to smaller, unlicensed services that provide more anonymity.
Scared Small
"There is some movement to the less popular, less prominent, less monitored peer-to-peer systems," Pew director Lee Rainey told TechNewsWorld. "There are lots of ways that people are [trading music online]," Rainey added, referring to e-mail, instant messaging and user groups, "although I think the incidence is smaller compared to peer-to-peer or even the paid services."
The Pew researchers said that while the RIAA lawsuits have pushed many away from online music, some of those who were using popular services such as Kazaa, Morpheus or BearShare are moving to smaller file-sharing applications such as iMesh, BitTorrent and eMule.
"While it's clear that the industry's legal campaign has made a lasting impression in the minds of American Internet users, we are also seeing evidence that a segment of users are simply moving away from the most popular and highly monitored file-sharing networks and are instead using alternative sources to acquire files," said Pew research specialist Mary Madden, co-author of the report.
Fellow co-author Rainey said that, over the long term, the number of online music fans is going to increase as Internet users discover and use the variety of legitimate services and business models.
Pushed Off P2P
In the meantime, the smaller P2P applications — which have evolved in terms of increasing anonymity and privacy — will continue to draw more users, as will other alternative file-trading methods, such as e-mail, instant messaging and discussion groups, Yankee Group senior analyst Mike Goodman told TechNewsWorld.
"We've been seeing shifts to the smaller sites," Goodman said. "Some of the smaller sites also use encrypted files, so it provides a little more protection."
Goodman added that while illegal music downloading might be down overall, there are significant amounts of free file trading taking place through the smaller applications and through the other, non-P2P applications.
"I think there's a lot of it not being accounted for," Goodman said.
Future Free, But Uncertain
Analysts also have referred to the international aspect of free file-trading, where services and users might be out of reach of legal prosecution.
Goodman said that the anonymity of free services is likely to continue improving, perhaps to the point where the application and file trading are totally anonymous.
Rainey agreed that new free file-trading models are likely to emerge and then copyright owners such as the RIAA will change their aim in an ongoing "arms race."
"The technology side of this story is very organic; it's changing and there will be new ways for people to share music for free online," Rainey said. "I don't have a sense yet of where this is going to end up."