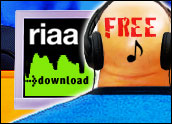 Claiming that its "education and enforcement campaign" involving more than 1,500 subpoenas and nearly 350 lawsuits is working, the Recording Industry Association of America has continued suing music file traders accused of copyright violation.
RIAA spokesperson Amanda Collins told TechNewsWorld that, in addition to the 80 new suits filed late last week, the subpoenas and lawsuits will continue, with more online music traders to be targeted, notified and sued.
"We've said all along this is an ongoing, long-term campaign against piracy on the Internet," Collins said. "Part of that is filing subpoenas and lawsuits." Touting that there is an increase in awareness that making music files available to others for free download on the Internet is illegal, the RIAA also pointed to the continued development and acceptance of legitimate music download sites as proof of its success.
However, Yankee Group senior analyst Mike Goodman told TechNewsWorld that the ability to share music freely is one of the main things keeping song swappers loyal to peer-to-peer services such as Kazaa and Grokster.
"They're still missing one component of what music lovers want to do — and that is a sense of community and the ability to share music," Goodman said of licensed services including iTunes, Napster 2.0, MusicMatch and others. "Until they do, [peer-to-peer networks] will offer what these things don't — the ability to share."
By the Numbers
The RIAA would not comment on the number of subpoenas it has issued in the campaign that began this summer and resulted in the first wave of 261 lawsuits in September. Legal observers monitoring the situation estimate the recording industry group has issued more than 1,500 subpoenas to ISPs across the country.
For its second wave of litigation that took shape in the form of 80 new lawsuits last week, the RIAA warned file sharers — accused of distributing an average of 1,000 copyrighted music files on the Internet — that they were being sued.
The group said that out of 204 notified individuals, 124 sought resolution without a suit — "a clear indication that the plan to notify illegal file sharers in advance and providing them an opportunity to work out a settlement before legal action is working," said an RIAA statement.
Following Congressional hearings on its legal strategy, which centers on the controversial Digital Millennium Copyright Act, the RIAA said last month it would provide advance notice of the lawsuits "to be reasonable and fair," according to Mitch Bainwol, RIAA chairman and CEO.
Filing Down
While indicating there are more lawsuits to come, the RIAA's Collins told TechNewsWorld that the RIAA lawsuit campaign has centered on the most egregious copyright infringers thus far.
"In the first few rounds in the beginning — in a general sense — we are filing lawsuits against the worst offenders," Collins said.
The industry group dropped one of its first erroneous suits against an elderly woman accused of file trading on Kazaa with her Apple computer, which is not compatible with the service. Collins indicated there have been no similar errors to date.
Filing Down
Reporting 156 settlements and 1,000 takers of its "Clean Slate" amnesty agreement — which lifts the threat of an RIAA lawsuit in exchange for cleaning unlicensed music files off computers and a promise not to engage in free file trading again — the RIAA said music fans are responding to its campaign.
"Awareness that file sharing is illegal and interest in legitimate online music services are both up, while traffic on the pirate P2P services is down," said RIAA president Cary Sherman in a statement.
However, Yankee's Goodman said a new business model that offered free file trading while still paying retailers would better serve the RIAA. Goodman called such a strategy "easy to do" given the digital rights management technology available today.
"That's when we'll truly see a decline in unlicensed file sharing," he said.