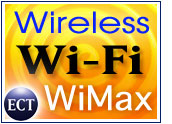 Rio Rancho, N.M., may not provide its citizens with all of the services available in larger cities like San Francisco and Philadelphia, but the small city six miles north of Albuquerque is leading the technological race to provide a citywide WiFi network.
The rollout of wireless Internet access is already underway in Rio Rancho, one of the fastest growing cities in the Albuquerque area, and is expected to be complete by March. Rio Rancho has licensed Azulstar Networks — a division of Ottawa Wireless based in Grand Haven, Michigan — to set up a citywide network covering 103 square miles.
"We think we will be the largest city, comprehensively, covered by wireless anywhere in the world," said James Palenick, city administrator of Rio Rancho.
Improving Access
Under the 25-year agreement, Rio Rancho will grant rights-of-way to Azulstar to install and operate WiFi equipment across the city. Azulstar will offer wireless Internet access starting at US$19.95 a month and mobile phone service starting at $24.95 a month.
"We think that it sends a message to the rest of the country that we're technologically advanced enough to be concerned about this," Palenick said. Ninety percent of the 64,000 people in Rio Rancho already have Internet access. "We want to make that access better, faster and more mobile so that they can do their jobs better," he said.
The entire project is being privately funded. Tyler van Houwelingen, chief executive officer of Ottawa Wireless would not reveal how much his company or other private investors are spending on the rollout in Rio Rancho. But he said that it is much cheaper to install a WiFi network citywide than setting up a traditional land network.
"We've got a lot of resources we are throwing at it. I think investment money is really starting to move now, so we can move our resources faster," said van Houwelingen. He said that he expects the operation in Rio Rancho to be profitable within a year. To run the wireless operation, he has recently hired 20 people in Rio Rancho.
Building a Model
The Rio Rancho citywide network is not the first project by Ottawa Wireless. It is also operating in Grand Haven, where it has 15 employees. It started providing WiFi coverage over about six square miles last year. "We've really got a formula and a model now where we can roll these out pretty fast," said van Houwelingen.
Another city in New Mexico plans to announce a similar deal in the near future, according to van Houwelingen. He declined to say which one, and would only say that it is larger than Rio Rancho. He also said talks are underway with other cities in Michigan.
"What we are trying to do as an organization right now is create the cookie cutter … trying to get all the processes in place to just crank these networks," said van Houwelingen. "We knew in theory that it would work. Now that we have it fully functional, we see how happy the customers are and how well the network is holding up."
Larger cities across the nation are working to provide citywide WiFi access. Philadelphia recently announced an effort to rollout free WiFi citywide in the next two years. San Francisco is also working to provide free WiFi citywide. It has already set up access in several neighborhoods and promises to expand the network across the city.
Worth the Expense?
Julie Ask, a research director in San Francisco for New York-based Jupiter Research, questioned whether cities should be in the business of providing citywide WiFi access when they are funding the projects themselves.
"It is competing with the same dollars as the parks and the roads and the schools," said Ask, noting that San Francisco has a large budget deficit. "Let alone … I can already see about six networks from my home."
Ask predicted that most citywide WiFi developments would be in cities where broadband access is not readily available. But she said that there might be a role for cities like Rio Rancho to help facilitate private investment in citywide wireless infrastructure.
"Well I don't know what other city's needs are. I know what my city's needs are," said Palenick, the city administrator of Rio Rancho, when asked whether cities should be involved in the development of wireless access. "We like to be at the cutting edge of economic development and technology. For us … we think it is very important."