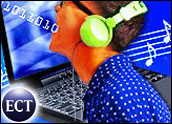 The debut last week of "Rock Band" from MTV and EA has turned the holiday shopping season into the staging ground for an historic battle of the music video game bands, with "Rock Band" going up against the current industry heavyweight, Activision's "Guitar Hero III."
The competition will be steep, with "Rock Band" the underdog entering a market in which "Guitar Hero III" has already rang up US$115 million in sales in the first seven days following its launch in October.
The Same, but Different
If the two titles seem as though they were cast from the same mold, it's because both were created by Harmonix Music System, which released the "Guitar Hero" and "Guitar Hero II" games through a deal with Red Octane in 2005 and 2006, respectively. When MTV Networks purchased Harmonix in September 2006, Activision, which acquired Red Octane in 2006 and owned the rights to the title, decided to keep working on music games and sought out Neversoft to develop the third installation of the series.
While the games are based on the same musical dexterity, one major differentiator between the two titles is the style of game play they offer users.
The game play for both titles centers on the ability of players to accurately "perform" music. However, "Guitar Hero III" features one type of instrument — a controller shaped like a guitar. The player hits buttons on the controller in sequence with the music as prerecorded tracks keep the pace with other sounds like drums and vocals.
"Rock Band" doubles as a single- or multi-player game by giving users the option of playing guitar, the drums or singing. To win at "Rock Band," gamers can play a faux Fender Stratocaster guitar, sing a song — a la karaoke — in tune and with the correct words, or hit the beat by drumming in time with the music.
"The games are different insofar as you cannot put a 'band' together with 'Guitar Hero [III],' but can play solo on 'Rock Band.' So in essence, 'Rock Band' contains a game play experience similar to 'Guitar Hero [III]' within the game," said Michael Pachter, a Wedbush Morgan analyst.
"The demographic is similar, but 'Rock Band' is collaborative — you can play solo, but it's designed as a group game. And 'Guitar Hero' is generally solo — you can play with one other [person], but again, it's designed as a solo game," he told TechNewsWorld.
Sibling Rivalry
Price, of course, is always a big decider for consumers. Gift givers and gamers looking for a bargain could be more attracted to "Guitar Hero III." The $99 price includes a guitar controller and game disc with more than 70 songs.
To enjoy the full "Rock Band" experience, consumers will have to shell out up to $170 for a bundle including all three peripherals — the guitar, drums and microphone — and a disc containing more than 45 tracks.
"On an apples-apples basis, Guitar Hero is $99 and Rock Band is $169. Last time I checked, that's $70," Pachter explained. "It's significant enough of a difference to discourage someone from buying 'Rock Band' unless they want the group experience. Nobody in their right mind would buy 'Rock Band' to play guitar only.
"I think that ultimately, 'Rock Band' will offer a guitar-disc starter bundle for $99, and the games will be competitive on both price and game play. Cheap consumers will buy 'Guitar Hero,' profligate spenders will buy 'Rock Band,'" he continued.
However, to add new songs to their lists of playable tunes, gamers will have to purchase a three-song bundle for "Guitar Hero" while "Rock Band" owners can simply download single tracks at $1.99 per song. In the long run, though, Pachter said he expects that "Guitar Hero" will also offer single downloads.
"The individual track download is smart, as it gives consumers greater choice. I've been confused by Guitar Hero's three-song bundles, and think that they will eventually give way to single tracks for $1.99," he concluded.