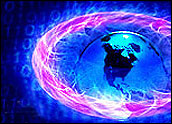 Flying isn't just for superheroes anymore. A personal aviation machine that made its debut at an air show in Wisconsin this week is raising the profile of solo flying devices. The machine — named the "Martin Jet Pack" — lets you soar into the skies for as long as 30 minutes and reach altitudes of 8,000 feet, its creators say.
The Martin Jet Pack is far from the first personal flying apparatus to surface, and it's probably far from the last. Some say it's not actually even a jet pack because of its mechanics. One thing's for certain, though: It's putting the spotlight on a kind of technology poised to take off — and, its creators hope — take humans to new heights.
Building on History
The idea of the jet pack has been around for decades. Like other personal flying devices under development, the Martin Jet Pack draws inspiration from the U.S. government's research into flying devices during the '50s and '60s. An early prototype commissioned by the Army was the Bell Rocket Belt. It flew with ease, but only for about 30 seconds — a far cry from the half-hour flights the Martin device promises.
The Martin Jet Pack's inventor, interestingly, shares more with his predecessors than just a fascination for flight. His name, Glenn Martin, is the same as that of an aviation pioneer who died in the mid-1950s. That Glenn Martin is credited with setting what was a record decades ago for the longest flight over a body of water at 66 full miles. He also created several World War I and World War II-era planes and is the "Martin" in the company now known as "Lockheed Martin."
'Jet Ski for the Sky'
The device unveiled this week uses a gas-powered engine and two fans that actually let it lift off the ground. Altogether, the machine weighs about 250 pounds. It's being marketed as a recreational sport vehicle of sorts — a "Jet Ski for the sky," its creator says.
This Jet Ski, though, will require some extra work to run compared to its water counterpart. Once testing is complete, the Martin Jet Packs will be sold only in small numbers and will require the user to pass training courses before the purchase is approved. Users will also be restricted as to where they can fly the devices. The jet pack technically falls under the FAA's regulations for ultralight aircraft and thus can only be used in areas that aren't heavily populated by people or actual airplanes.
Definition in Question
Whether or not the Martin Jet Pack is actually a jet pack is a matter of debate. Jet Pack International, a personal craft company around since 2003, questions the definition.
"It runs off regular gasoline — it's basically two fans pointed down," Jet Pack International Director of Marketing Kelly McLear told TechNewsWorld. "It's not a rocket belt or a jet pack," she said.
A device under development by Jet Pack International, in contrast, is said to be the world's first to use actual turbine engines and run off of jet fuel. The model, boasting up to 10 minutes of flight time at 83 miles per hour, is expected to be available next year at a cost of US$200,000.
"It's truly a jet pack," McLear explained.
"We hope one day, rather than an HOV (carpooling) lane, we'll have a jet pack lane," she laughed.
Expanded Skyways
The idea of an expanded air highway isn't as far-fetched as it seems. NASA's Small Aircraft Transportation System project, formed in 1999, studied the feasibility of a so-called "highway in the sky." The project ended two years ago, concluding that such an idea could be beneficial.
"We passed it along to the industry to see where they go from here," NASA Public Affairs Specialist Kathy Barnstorff, who worked on the project, told TechNewsWorld
Unfortunately for the jet pack creators, though, the sky highway — if ever built — likely wouldn't be designed with personal aircraft in mind. The virtual roadway idea was envisioned more for small aircraft with built-in dashboard displays, as a way to let planes use smaller airports that might not have full-blown air traffic control systems.
"Jet packs weren't part of the concept," Barnstorff said.
"Some of our industry partners are continuing with their efforts to improve small plane technologies as well as efforts to develop personal air vehicles that might use a small aircraft transportation system — [but] NASA is not studying personal air vehicles or flying cars at this time," she noted.