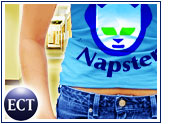 In a technology-industry version of the battle of the bands, Apple has come out swinging against a reborn, legitimate Napster, boasting that the iTunes Music Store has sold five times the number of songs Napster did in the challenger's first week of business.
The original, free Napster song-swapping service sparked the peer-to-peer (P2P) file-trading movement, drawing about 60 million users before being shut down by legal attacks.
While most of those Napster users moved on to alternative free services, such as Kazaa and LimeWire, Apple has managed to capture many Windows users in the past month, in addition to its cadre of Mac iTunes users. Windows users legally downloaded 1 million songs in the first three days that iTunes was offered for Windows.
Despite a long list of other Windows competitors, analysts believe name recognition and business model strengths will put Napster — now owned by Roxio — and iTunes in a head-to-head battle for dominance. Touting 80 percent of the market for legal music downloads, Apple fired the first shot this week. "During Napster's first week of operation, the iTunes Music Store sold five times as many songs as Napster did — 1.5 million versus 300,000," said Apple chief executive Steve Jobs in a statement.
Not to be upstaged by Apple, Roxio chairman and CEO Chris Gorog challenged Apple's statistics, telling TechNewsWorld that his company will be chipping away at Apple's market share with a powerful marketing campaign already under way.
"We expect as soon as we get the word out to consumers that Napster is back, it will significantly impact our growth," Gorog said in an exclusive interview with TechNewsWorld. "We would also expect to be taking away market share from Apple on a weekly basis."
Who's the Mac?
Boasting more than 17 million 99-cent song purchases since its launch in April, iTunes had more than 80 percent share of the legal download business last week, Apple said, referring to Nielsen SoundScan research.
Napster, which on Thursday announced a deal with Penn State University to deliver its premium service to students there, called its first week's results "strong" at 300,000 songs sold. However, Apple broke out the "five times" claim with a press release on its iTunes progress the same day.
Yankee Group senior analyst Mike Goodman told TechNewsWorld that Napster's name recognition and Apple's hardware-driven business model with iPod are likely to propel the two companies into a fight for dominance of the legitimate download market.
Apples to Oranges
In response to Apple's belittling of its song sales, Roxio's Gorog questioned Apple's figures from Nielsen SoundScan, telling TechNewsWorld that those numbers did not include Napster's results.
Gorog said Apple's claim of 80 percent market share is reduced to 62 percent if Napster's 23 percent is considered. Gorog, who also questioned how Apple could have had 1.5 million song downloads when SoundScan reported a total of 827,000 single downloads in the same period, said he does not know where Apple got the 1.5 million figure.
"In our first week, we did 36 percent of Apple's business, which we think is an extraordinary start for us," he said, referring to Apple's "carpet bombing" advertising that now is being matched with television, print and Internet marketing by Napster.
Subscription Slighted
Napster also reiterated it is one of the select services — not counting MusicMatch — to offer both a-la-carte downloads and a US$10 monthly subscription for unlimited streaming of CD-quality music. The company said it has streamed or downloaded 2 million tracks to thousands of members since it launched last week.
"[Apple is] obviously comparing on the basis of downloads because they're not in the subscription business," Gorog told TechNewsWorld, referring to higher margins and profit from subscriptions. "It's Apple ignoring that aspect of our business because they're not able to compete with it."
Both services are very similar in offerings: 99-cent songs, $9.95 albums, celebrity playlists and either allowances or gift certificates and cards. But Apple was the first to show success with the single-song, or a-la-carte, model.
The Yankee Group's Goodman downplayed Napster's subscription business, contending that the same basic offering is available for free from MusicMatch with its jukebox software.
Nice for Napster
Still, Goodman was critical of Apple's public attention to Napster, indicating that the move lends credibility to the new iTunes competitor.
"Why give legitimacy to Napster?" he said. "What Apple is inherently doing is helping to build Napster's credibility — just the fact that they're paying attention to them shows Apple has some concerns regarding them."
Goodman blamed Apple's market-leading position for what he viewed as a mistake, adding that the Cupertino, California-based company is not used to being the front-runner.