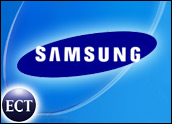 Samsung on Monday unveiled a prototype for what could one day become a less expensive substitute for flash memory and at the same time touted a healthy flash memory market with high demand and prices to match.
The South Korea firm's new technology — phase-change random access memory (PRAM) — could eventually displace existing NOR flash technology with smaller size chips, increased efficiency and better performance. PRAM is viewed as a next-generation version of non-volatile flash memory that will serve in new mobile computing, entertainment and other handheld electronics.
Portable Pieces
Samsung unveiled its PRAM offering in a 512-megabit device at a press event in Seoul this week, saying it would be a "highly competitive choice over NOR flash," and claiming that the memory technology was more scalable than any other memory architecture currently being researched. PRAM improves performance, extends memory lifetime and shrinks space requirements, the firm said. It should be available in the marketplace beginning in 2008.
The new memory technology represents a changing value proposition for device memory, and will be one of the keys to the transition to smaller, more mobile computing, Semico Research Vice President Bob Merritt told TechNewsWorld.
"I think it's a very impressive piece of work," he said, adding that the PRAM technology addresses the power and wireless demands of the mobile environment. "The value proposition of memory is changing as we move into this portable era."
Battle of the Platforms
Samsung, a major cell phone maker, said its PRAM flash would be attractive for multi-function handsets and other mobile applications where faster memory speeds equal noticeable performance boosts.
It is unclear whether Samsung will look to use the PRAM technology for a straight memory product, or whether the firm will incorporate the PRAM flash into semiconductor logic for a proprietary platform, Merritt said. The form factor of the portable era — whether that of a notebook or a mobile phone — may be at stake, he remarked.
"That's the piece that hasn't fallen [into place] yet," Merritt said. "If [the PRAM technology] is eventually tied with unique logic or a proprietary platform, then the platform becomes the product. This could lead to a battle of platforms."
The Next NAND
Meanwhile, Samsung also unveiled late last week its 32 GB flash memory technology created with the smaller, more efficient 40-nanometer manufacturing process.
The company highlighted the efficiencies and new architecture of the NAND flash memory, which will boost the capacity of devices such as digital cameras and media players.
Samsung's ability to produce the new memory technology at the 40-nm scale proves wrong previous contentions from chip giant Intel that such a development was years off, Semico analyst Jim Handy told TechNewsWorld.
Confirming the current, "very positive" market for NAND flash, Handy said the technology continues to lead the way to the future with help from Samsung and others.
"Basically, all of these other forms of media have given way to NAND," he said, adding that wide production of the 40-nm memory technology could spell the end of other media. "DVDs will become a relic just like floppy discs."