Details about the Galaxy Tab are beginning to his the street following a Samsung event Thursday, including the fact that device maker will reportedly ship the Android-based tablet to the four largest U.S. wireless carriers: AT&T, Verizon, Sprint and T-Mobile.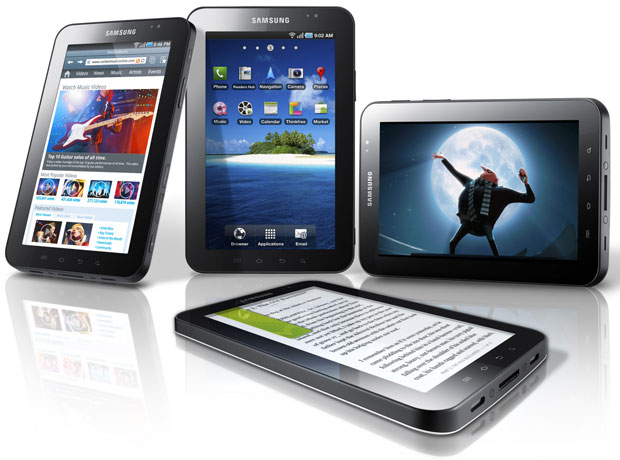 Samsung's Galaxy Tab
The Galaxy Tab will be shipped in Europe later this month. In the United States it will ship in late October or November.
The Galaxy will be powered by version 2.2 of the Android operating system. It will have a 7-inch display. The tablet comes with a 3 MP camera with autofocus and LED flash, and it also has a front-facing 1.3 MP camera for video conferencing. Its battery is 4,000 mAh and offers a 7-hour movie-play capability.
While pricing details have not been announced, it looks like the carriers will subsidize some of the cost as part of a multi-year cellular contract. Without the carrier contract, the Galaxy is expected to be in the general price range of the Apple iPad, which starts at US$499.
The Galaxy will ship with 802.11n WiFi and Bluetooth 3.0. There will be individual capabilities on the units prepared for specific carriers.
The Positives of Multiple Carriers
Availability through four U.S. carriers is a major benefit for the Galaxy Tab. "When you look at the Galaxy versus the iPad, one of the biggest differences is you can choose your carrier — you can go to T-Mobile or Verizon," Chris Hazelton, research director for mobile and wireless at 451 Group, told TechNewsWorld. He also pointed out that carriers will offer a subsidy for the Galaxy. "But that also means you'll probably be locked in with the carrier for a two-year contract. With the iPad, you can go month-to-month with AT&T."
Compatibility with Adobe Flash will also be a major positive for the Galaxy, Hazelton said. "One big benefit is Flash support. The tablets are very high-end Web-browsing devices, and one of the main uses is looking at the Web," says Hazelton. "With Flash, you get full access to the Web."
External Storage and Multitasking
While both the iPad and Galaxy have internal storage, Hazelton notes that the Galaxy will allow for storage expansion. "With Samsung, you can expand the storage. You can go so far as having movies on one storage device and music on another," says Hazelton. "You can switch out the memory for movies to music. So you get greater flexibility."
The Galaxy also supports multitasking, Hazelton noted. "Galaxy will have multitasking capabilities. Right now you can't multitask on the iPad," says Hazelton. "That will be fixed quickly on the iPad as it becomes more of a computer platform." In fact, Apple announced recently its plans for an iOS update that will bring mulitasking to its tablet this fall.
Screen Size Matters
The Galaxy's 7-inch screen is smaller than the iPad's but has benefits of its own. "The small screen of the iPhone or [an Android phone] make me feel like I should be wearing glasses," Rob Enderle, principal analyst at the Enderle Group, told TechNewsWorld. "If you're someone who thinks a 3.5-inch screen is just fine, you'll probably want to stay with that."
Another positive Enderle sees with the Galaxy is the Android 2.2 operating system. "There difference between the 1.6 and 2.2 operating system is there with the Galaxy," said Enderle. So the Galaxy Tab will be closer to the iPad than it will be to the Dell Streak."
Some retailers have noticed that the iPad has started to eat into laptop sales. "I saw a comment from a major retailer that there is a huge cannibalization of laptops by the iPad," said 415 Group's Hazelton. "And that's not just notebooks. That's laptops."