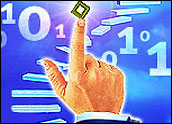 In the ever-intensifying race to deliver the most memory in the tiniest chip, SanDisk on Tuesday rolled out its 8-gigabit, 56 nanometer (nm) NAND flash technology and promised to deliver a 16-gigabit version in the second quarter.
Both versions of the 56 nm chip use multilevel cell (MLC) technology to pack more capacity into a smaller space than has been possible before.
The 8-gigabit, or 1-gigabyte, version is due to ship this quarter, and the 16-gigabit, or 2-gigabyte, version won't be far behind, thanks to architectural innovations and improved programming efficiency, company officials said. With 56 nm technology, the chips represent the fifth generation of SanDisk's MLC NAND flash technology.
Increasing Production
The flash chips will initially be produced at Fab 3, the 300 mm wafer fabrication facility at Toshiba's Yokkaichi Operations near Nagoya, Japan. By year's end, a new 300 mm facility, dubbed "Fab 4" and now under construction through Flash Alliance, a venture between the two companies, will add to the production.
SanDisk and Toshiba codeveloped many of the designs and technologies in MLC NAND flash and share output from the Yokkaichi facility.
"The technology and design advances will help enable SanDisk products to offer approximately twice the improvement in write performance compared to the 70 nm generation," said Randhir Thakur, executive vice president of technology and worldwide operations for Milpitas, Calif.-based SanDisk.
"We are pleased with the joint development of 56 nm advanced technology with Toshiba, and expect it to become a production workhorse in Fab 3 during the second half of this year. We are executing according to plan and continue to make the captive Fabs highly cost-effective sources of flash memory for our expanding array of consumer products," he added.
Raising the Bar
"This is Moore's Law, which predicted that the number of transistors on a chip would double about every 18 months, operating on the flash memory side," Roger Kay, president of Endpoint Technologies, told TechNewsWorld. "This really represents the bar for the competition."
Of course, in this industry, the bar keeps getting raised. Earlier this year, competitor Samsung began sampling an even smaller NAND flash chip — just 50 nm, with 16-gigabit capacity — so the pressure is on.
However, Samsung is not as close to volume production, so for now, SanDisk and Toshiba have the advantage. In a market driven by consumer demand for devices that will depend on flash memory, including primarily flash cards, USB flash drives and portable media players, that advantage essentially boils down to cost.
Next-Gen PCs
"This is an important step," Joseph Unsworth, principal analyst for semiconductor research at Gartner Group, told TechNewsWorld. "It's a consumer-driven market, and cost is absolutely paramount. This gives them a strategic advantage over their competitors."
Ultimately, the ever-shrinking technology could even lead to the next generation of PCs with solid-state technology, Kay noted.
"When you start dealing with capacities like that, it's almost big enough for a PC. Solid-state computers may not be totally appropriate for general-purpose machines, but maybe an ultramobile solid-state PC. This technology will help with longer battery life and greater capability," he concluded.